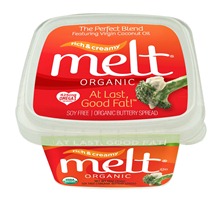 "Rich and creamy Melt is a butter alternative made of virgin coconut oil, flax seed oil, palm fruit oil and canola oil. It provides the good fats your body needs when you take out other fats in your diet. Melt cooks, tops and bakes just like butter, with good-for-you ingredients.
At Last, Good Fat!™
Hard to believe? Not anymore  because not all fats are created equal. By "good fat," we mean Melt® is the perfect blend of the healthiest fats and oils that have been carefully chosen to be totally delicious and to deliver real health benefits.
Melt is a great tasting, organic butter alternative that supports healthy weight when replacing other fats in your daily diet. Melt is an excellent source of Medium Chain Fatty Acids (MCFAs) – the "good fats" – that our bodies burn as energy instead of storing as fat. MCFAs are recognized as good fats because they are readily absorbed, easily digested and converted to energy.
Melt is the better spread for a healthy lifestyle because it's made with organic oils that are good for you. Butter, margarine and virtually all other butter substitutes that contain either hydrogenated or partially hydrogenated oils have been linked to obesity, heart disease, diabetes type II and other deadly illnesses. Melt's unique blend of organic ingredients offer a wealth of attractive benefits. In addition to supporting healthy weight, the blend of oils in Melt support thyroid function and metabolism, gastro-intestinal health, optimal nutrient absorption, and heart health. All of our organic oils are ethically sourced to ensure optimal healthful qualities, social responsibility and sustainable farming practices."
I have whole wheat toast with butter/buttery spread almost every single morning for breakfast. It's my staple. I'm not a huge breakfast person, so it's easy, simple, and healthy. So, obviously, my choice in butter or butter substitute is important. I usually use a butter substitute, unless I have some of the real stuff left over from a recipe. I've tried a few brands, and they all seemed to taste the same to me. I was excited to be able to review Melt Buttery Spread, and investigate this buttery spread that uses Virgin coconut oil. The verdict? I LOVE it. Truly, it's the best tasting buttery spread I've ever had. It's rich and creamy, and goes great with toast. I've used it for cooking as well, and no one in my family could taste the difference. And since they use healthy cooking oils to make it, we're getting the good fats. BONUS! Melt has no trans fats or hydrogenated oils. Just the healthiest fats and oils. I love when I find a great product that is good for my family's health. Thank you Melt!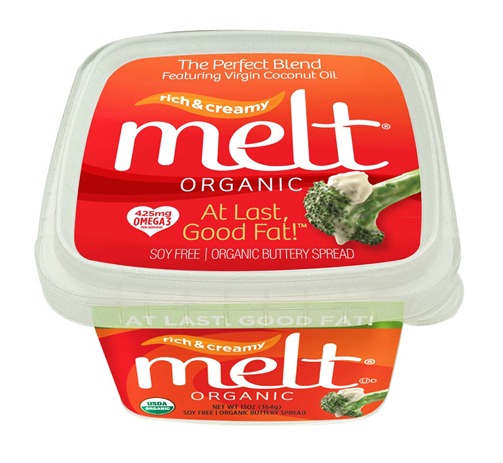 Things that are Brag Worthy:
Melt® is the perfect blend of the healthiest fats and oils

Melt cooks, tops and bakes just like butter

Supports healthy weight when replacing other fats in your daily diet

Melt has no PARTIALLY HYDROGENATED or HYDROGENATED oils and, therefore, no TRANS FATS

Certified Organic and Kosher

No artificial colors, flavors or preservatives

50% of the saturated fat and fewer calories than butter
"Like"  Melt on Facebook and Follow them onTwitter!

Melt Buttery Spread gets Bragging Rights!
One reader from all participating blogs will win a $500 visa gift card for a Mingle with Melt party with 10 friends! You can use the card to buy food, decorations and maybe the perfect little black dress. (ends October 31, 2011)
Visit Mingle with Melt to enter, and BE SURE to say you were sent by www.thebraggingmommy.com!