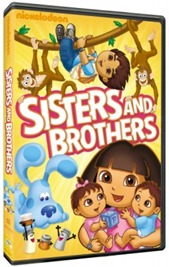 "Can't live with them, can't live without them.  Sisters and brothers can sometimes bring conflict, but it's the resolution and positive relationships that make them the best friends in the world.  This February, see how your Nickelodeon favorites deal with their siblings with Dora the Explorer, Go, Diego, Go!, Blue's Clues, Wonder Pets!, and Ni Hao, Kai-lan – all together on one DVD. Created by Nickelodeon Home Entertainment and distributed by Paramount Home Entertainment, Nickelodeon Favorites: Sisters and Brothers comes to DVD on February 8, 2011 for the suggested retail price of $16.99 and features over two hours of educational entertainment for preschoolers, as well as Team Umizoomi music videos."

My boys are definitely Nickelodeon fans- their shows are educational and entertaining. Nickelodeon Favorites: Sisters and Brothers DVD is a great way to share some of Nickelodeon's best with your little ones, whenever you want! I love that this collection of Nickelodeon Shows on DVD is Sister and Brother themed- so cute! And what a great gift for any child who is expecting a sibling soon. My boys loved each and every episode on this DVD- Diego was definitely their favorite. Your child will love this great collection of Nick shows!
Dora the Explorer – Big Sister Dora
Dora has some really exciting news: someone new is
joining Dora's family! Someone who sleeps in a cradle, drinks from a bottle, wears diapers, and likes to be rocked to sleep.  Dora's Mami is having a baby! Maybe it's a boy…or maybe it's a girl. Dora and Boots have to get home quickly to find out!
Go, Diego, Go! – To Babysit a Bobo


The Bobos's are on their way to the Spider Monkey Fiesta with their 3 new Baby Bobo Sisters.  And as the Bobos search for fruit for the party, the restless Bobo Sisters speed off into the forest to look for fruit without them!
Blue's Clues – The Baby's Here!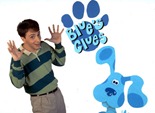 While waiting for Mr. Salt and Mrs. Pepper to call from the hospital with news of the new baby here, Paprika prepares to be a big sister.  Looking at baby books gives everyone a chance to learn about what they were like when they were really little.
Wonder Pets! – KalamaZoo! / Back to KalamaZoo!


Ming-Ming visits her Aunt Eleanora at the local petting zoo during a school holiday.  Eleanora asks Ming-Ming to take care of her toddler cousin, Marvin, for the afternoon.  Ming-Ming thinks this will be a "piece-of-cake" but Marvin proves to be quite a spirited little Duck.  Ming-Ming must learn to look beyond her own needs and find the patience and compassion to take care of Marvin.
Ni Hao, Kai-lan – Hoho's Big Flight


On the day of the big lantern festival to celebrate the end of Chinese New Year, Grampa gives Kai-lan some lanterns for her and her friends to decorate.  But when Hoho's lantern flies away, he jumps on it, and everyone goes on a big chase to get him down!
Things that are Brag Worthy:
Perfect gift for any child who's getting a brother or sister
Collection of Nickelodeon's best shows
Your child will love watching one episode from each of their favorite shows
Features Ni Hai, Kai-lan, Wonder Pets!, Go Diego Go, Blue's Clues, and Dora the Explorer
Visit shop.nick.com/ to purchase this, and other Nickelodeon DVDs!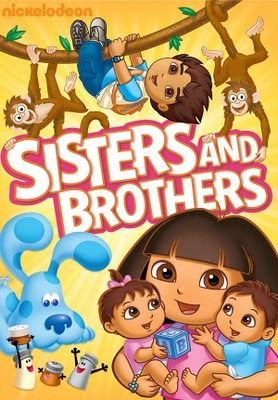 Nickelodeon Favorites: Sisters and Brothers DVD gets Bragging Rights!
*I received a DVD copy for the purpose of this review