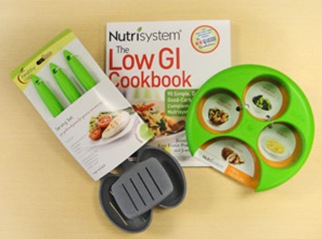 After losing all the weight and feeling great, I want to make sure I don't gain it all right back.  I love that Nutrisystem has products that will help you.  I was lucky enough to receive all 3 of the items:
The Low GI Cookbook – Nutrisystem Edition
The Low GI Cookbook, Nutrisystem Edition comes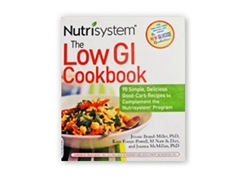 from the expert authors of The New Glucose Revolution Series. Use this cookbook to prepare meals and snacks consistent with the Nutrisystem program — low-fat, low glycemic, and portion controlled. Each recipe provides nutritional information and the Nutrisystem program equivalent, so you know exactly how much to eat and how this amount fits into your personal Nutrisystem® meal plan.
Healthy Steps™ Portion Control Serving Set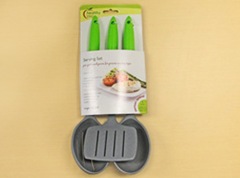 This three-piece utensil set takes the guesswork out of serving appropriate portion sizes, allowing you to portion the proper amounts of starches, vegetables and meats for your meals. The starch spoon and slotted vegetable spoon serve perfect ½-cup portions, while the spatula provides a 3-oz. portion guideline for serving meat.
Healthy Steps™ is a trademark of Jokari/US, Inc.
Nutrisystem Meal Measure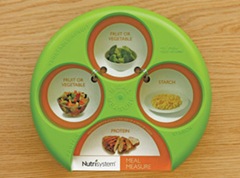 This portion control tool allows you to serve perfect portions right on your plate. Use the designated portion cavities to measure starches, fruit, vegetables, and proteins according to your Nutrisystem meal plan. This tool can easily be moved from plate to plate and is dishwasher-safe, so it's perfect for family meal times.
I am loving all 3 items.  My hubby and I have been using the cookbook to come up with healthy dinners we never would have thought of on our own.  The portion control serving set is great for knowing how much of each item we should be eating.  Along those same lines, I love the Meal Measure.  It takes all the guessing and work out of measuring your portions for each meal.  I highly recommend all 3 of these products for your weight loss maintenance.
All of these products are available on the Nutrisystem Website (shop a la carte: In the kitchen).
Would you like to lose weight and get healthy on the Nutrisystem diet?
Visit Nutrisystem today or call 888-853-4689 to get started!

*I  received the Nutrisystem Women's Plan and items mentioned above in exchange for blogging about my honest Nutrisystem experiences.  All opinions are my own and my results may differ from others.