We were lucky to be able to enjoy the Planes movie in theaters.  We fell in love instantly.  So we were thrilled when Disney sent us Planes on Blu-ray to review.
"The world of Cars takes flight in Planes, Disney's high-flying animated comedy revved up with action and adventure.  Join Dusty, a crop duster with sky-high dreams and a once-in-a-lifetime chance to take on the world's fastest flyers in the greatest air race ever. Dusty has a huge heart but two big problems…he's not exactly built for speed, plus he's afraid of heights.  His courage is put to the ultimate test as this unlikely hero aims higher than he ever imagined. With a little help from his friends, Dusty finds the courage to be more than he was built for—and the inspiration to soar."
"Disney's heartwarming family comedy, "PLANES," revved up with high-flying
action and adventure, lands in homes and mass retailers nationwide on November 19th. This endearing underdog story about a crop dusting plane named Dusty with sky-high dreams touches down on Blu-ray, DVD, Digital HD and On-Demand featuring a cargo hold full of exciting bonus features. Guaranteeing hours of fun, "PLANES" is the perfect gift for "ladies and gentle-planes" of all ages this holiday season."
We are so happy to own Disney Planes on Blu-ray and DVD Combo Pack.  My kids have enjoyed watching it many times since it arrived.  It is a hit and I highly recommend adding this fun family movie to your collection.  We also really enjoy the bonus features that are included.  Very entertaining and fun!
BONUS FEATURES:
(Blu-ray, DVD and Select Digital Retailers)
· Exclusive Franz's Song (approx. 1:40) – Blu-ray & Select Digital Retailers
Produced exclusively for Blu-ray and HD Digital, this never-before-seen completely finished animated song features the German mini-car, Franz Fliegenhosen, who encourages Dusty on his flight.
· Klay's Flight Plan (approx. 15:00) Blu-ray, DVD & Select Digital Retailers
Follow Director Klay Hall's personal journey during the making of "Planes" and discover why his family connection to aviation made "Planes" his perfect project. Fly along with Klay as he lands on a working aircraft carrier to get first-hand experience on the flight deck.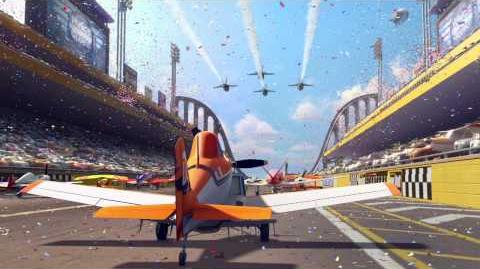 · Deleted Scenes (approx.. 3:46) Blu-ray & Select Digital Retailers
Director Klay Hall and Producer Traci Balthazor-Flynn introduce deleted scenes from the movie.
1. Training Montage (approx. 2:38)
2. Taj Mahal (approx. 1:08)
· Meet the Racers (approx.. 5:50) Blu-ray, DVD & Select Digital Retailers
Featurettes introducing racers El Chupacabra (1:15), Ripslinger (1:15), Dusty (:90), and Ishani (:90).
· Top 10 Flyers (approx. 8:00) Blu-ray & Select Digital Retailers
ESPN's Colin Cowherd hosts a fun, fast-paced countdown of the greatest aviators in history.
Available online and in stores now!
Disney Planes on Blu-ray Combo Pack gets Bragging Rights!
mmmmmmmmmmmmnoiooo