My hubby and I really enjoy Chinese Food and we recently had the chance to visit P.F. Chang's China Bistro.  If you haven't been there we highly recommend it, if you have then you know just how great it is 🙂
I love the decor and atmosphere right when you walk in.  It's calming and provides a great dining experience.
Right now they have a "P.F. Chang's for 2" special, where you can get 2 soups, an appetizer, 2 entrees, and dessert for around just $39.95!  We decided to do that and here is what we got:
Egg Drop Soup– I love this soup, it was so good!  one their menu it says "A Classic Starter" I couldn't agree more!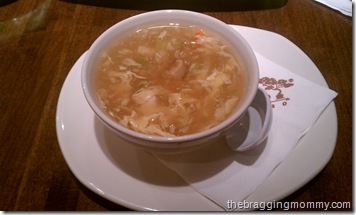 Chang's Chicken Lettuce Wraps-  "Our signature appetizer. Wok-seared minced chicken, mushrooms, green onions, and water chestnuts served over crispy rice sticks and served with cool, crisp lettuce cups" We loved these, and the disappeared pretty quick! I highly recommend you get the chicken lettuce wraps when you visit P.F. Chang's.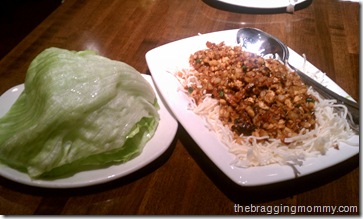 Sweet and Sour Chicken– "Stir-fried with pineapple, bell peppers, onions and candied ginger in a sweet & sour sauce" I loved the flavor of the sweet and sour sauce, the chicken was perfect and the bell peppers complimented it so well.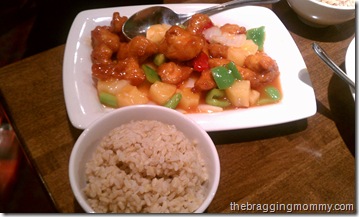 Kung Pao Shrimp– "Stir-fried with peanuts, chili peppers and scallions" I don't eat shrimp (I know, I'm crazy!) but my hubby loved this!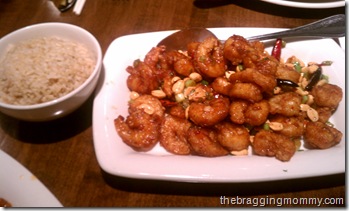 P.F. Chang's Fried Rice Combo- "Wok-fried rice blended with egg, soy, carrots, bean sprouts and sliced scallions with a combination of beef, pork, chicken and shrimp" This rice is super yummy!  Great flavors great combo of items.  Love Love Love it!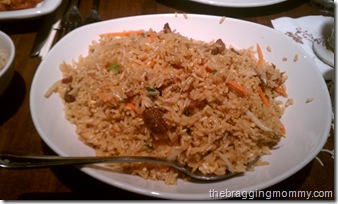 For dessert we got The Great Wall of Chocolate– "Six rich layers of frosted chocolate cake topped with semi-sweet chocolate chips, served with fresh berries and raspberry sauce" Heaven on earth!  This cake was so delicious!  The raspberry sauce goes so well with it and the fresh berries made it such a good dessert.  Make sure you get this when you visit!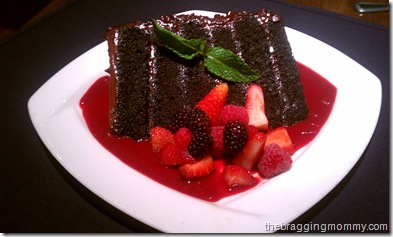 Visit www.PFChangs.com to find a location near you!
Also right now when you like P.F. Changs on Facebook you will get Free Lettuce Wraps. Visit their Facebook page for more info.
PF Chang's China Bistro gets Bragging Rights!

*I received a gift card to PF Changs China Bistro for my review.