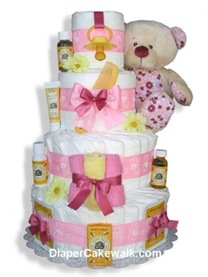 Have you ever been to a baby shower and ever seen those cute Diaper Cakes? Well I have! I found a cute website that makes unique baby shower gifts for all new mom's! Diaper Cakewalk has the perfect baby shower gifts that are not only Unique but functional too!
"A diaper cake is a clever and practical alternative to traditional fresh f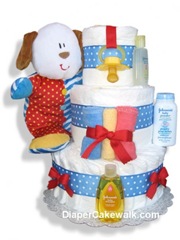 lowers sent to a new or expectant mom. Constructed from 100% usable disposable Pampers Swaddlers, our diaper cakes display beautifully – and weeks later when flowers are in the trash, the diaper cake is easily dismantled to provide a week's worth of diapers and other practical new baby supplies!" (Diaper Cake Walk website)
I love that each cake is designed with Mommy and baby in mind. Each Diaper Cake can really be constructed the way that you want it to be! It can have 3 or 4 tiers or sometimes bigger and includes diapers, washcloths, plush toy, and other cute items that all moms need.
These Diaper Cakes make great new baby gifts and are perfect for any Mom that is expecting. Each Diaper cake that is made is different and you will love each one that you choose!
I also really love that they have a How to Make a Diaper Cake section that will
send you instructions on how to decorate your own diaper cake. Diaper Cakewalk will send you a 3,4 or 5 tier plain diaper cake that you can decorate with your own items and make it unique!
Things that are Bragworthy:
Perfect for any Baby Shower as a gift or a Table Centerpiece

They have a great

Facebook

page and each month they give away a free

diaper cake to one expecting mother!

Each diaper cake is Unique

Can be customized just the way you like it!

Tons of cute and different styles to choose from
All of these cute Diaper Cakes can be purchased at www.diapercakewalk.com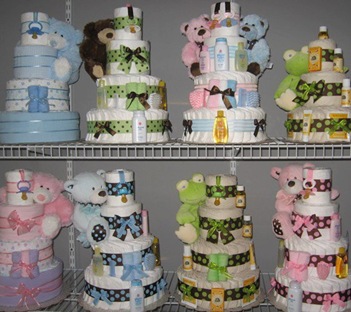 Diaper Cakewalk Diaper Cakes get Bragging Rights!