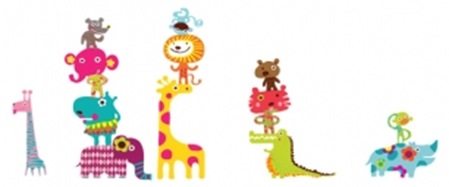 I am not a very good decorator I will admit that wholeheartedly, so I was really excited to come across the cute children's wall decor from Pop & Lolli. It really gave me some cute and great ideas for Leah's room and the babies nursery, which now I can't wait to get started on!
Pop and Lolli have some really fun, bright, colorful and delightful characters that make up their wall art. I love that all of these cute characters really come to life when you stick them on the wall OR you can even put them in a cute frame!
"Being a Mod Mom with a desire for GOOD design, highly appreciative of (multi)functional products, and a flair for laughter and fun, I was at a loss of what to do in my little girl's very first room of her own! Scouting the world wide web for days in search of the ultimate nursery décor produced nothing awesome. Nothing extraordinary. Nothing fun. And nothing funky.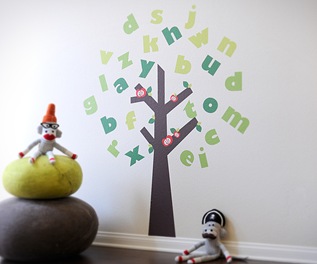 I already imagined the headlines: "Designer Mom's first child goes bare naked against the walls!" It was quite the predicament! Nothing fit this mom's dream just right. Too small. Too blah. Too nothing. Too ordinary.
I believe in impact. And to make an impression, size can definitely help! I had walls – FOUR BIG ONES – staring at me. I just knew that to create the fabulous design experience I imagined, I needed: – funky and fun designs which was playful and cheery and COLO(U)RFUL – a design flexible to grow with her – and, of course, all encompassing design BIG enough to truly create an immersive environment I like to call it my PICTURE POETRY. Experiencing design as an opportunity for expression and exploration – something every kid deserves.
So, this Mod Mom decided to take action and imagineer the ideal dream for experience-design. It was a massive hit.
Everybody liked it! Everybody wanted it!" (Pop and Lolli website)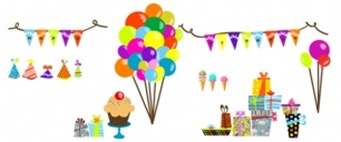 I really love how funky and fun each design is! There are even designs for those special occasions like birthdays and Christmas!
" Pop & Lolli builds the foundation for a creative imagination. It sets the backdrop and puts your child center stage. And for everyone still kid-at-heart who enjoys the pleasures of Pop & Lolli – it will definitely color your dreams! Pop & Lolli fabric wall decals offer the following:
• Funky and fun designs that are playful and cheery and colorful.
• Flexible designs that children can interact with.
• All encompassing design and themed overlays BIG enough to truly create an immersive environment.
Pop & Lolli fabric decals are 100% safe for use with children of all ages. It is made of an ultra premium polyester fabric, uses a water based adhesive, 
produced of non toxic materials and lead free ink and it does not contain any of the PVC's found in the manufacturing of vinyl decals. Pop & Lolli decals can last 7-10 years indoors, and 5-7 years outdoors and adheres to most surfaces. And to add even more savvyness, it is very re-usable, very removable, and many times re-positionable! Yet, it doesn't stop there – Pop & Lolli is proudly made in the USA and also eco-friendly." (Pop and Lolli)
They have such cute fabric wall decals that I can't wait to get started on Leah's and the babies room.
Things that are Bragworthy:
Fun, Funky and Cute Wall Decals for everyone in the family
Cute Blog with great Ideas and follow up with their newsletter!
Colorful and Unique- Your kids will love playing in their room!
All of these cute Wall Decals can be purchased at www.popandlolli.com and right now you can get a 10% discount! Please use coupon code: BRAGGING10 (Expires June 30, 2011)!
Pop & Lolli Fabric Wall Decals gets Bragging Rights!