Work. Kids. Bills. Comedy. It's how the middle half lives. The Heck family returns for Season Two, bringing with them 24 episodes of offbeat fun with one foot in reality and the other on a greasy wrapper from Burgerworld. Patricia Heaton and Neil Flynn star as Frankie and Mike Heck, frazzled parents trying to stretch their patience and paychecks around three brilliantly true-to-life kids: Axl, whose latest dream girl has tattoos, body piercings and pink hair; Sue, who's thrilled to come in eighth (out of eight) in Square Dancing with the Stars; and Brick, the only kid who has his birthday party at the public library. "Watch it, people. You will laugh" (Robert Lloyd, Los Angeles Times).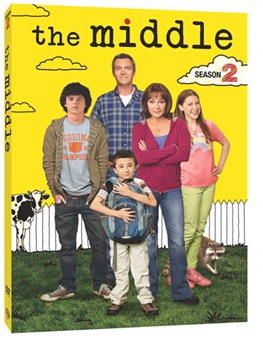 The Heck's have their son Axl in football and daughter Sue in cross country. They try their best to attend their children's events but often disagree on which event they want to attend. It is really humorous since both parents really want to go to Axl's football games and don't really want to go to Sue's Cross country meets.  She isn't the most talented child when it comes to running 😉 But one of them must go, it ends up being the mom on a specific episode I remember and it is really funny.  It seems like it is always us moms who are sacrificing most.  Not always, but around here I am the one who gives up her dinner.  Misses my favorite show, etc…but my kiddos are completely worth it.  It is so important that they know how much we love them and that we will always be there for them.
Do you ever find conflicts in your family schedule?  Do your kids have events at the same time?  How do you resolve them & decide which parent goes to which? Please share…
Pre-Order your copy of The Middle Season 2 on Blu-ray & DVD here: http://bit.ly/pLzMVJ!
I have been hired by Warner Bros. WBWord division to promote The Middle Season Two on DVD.