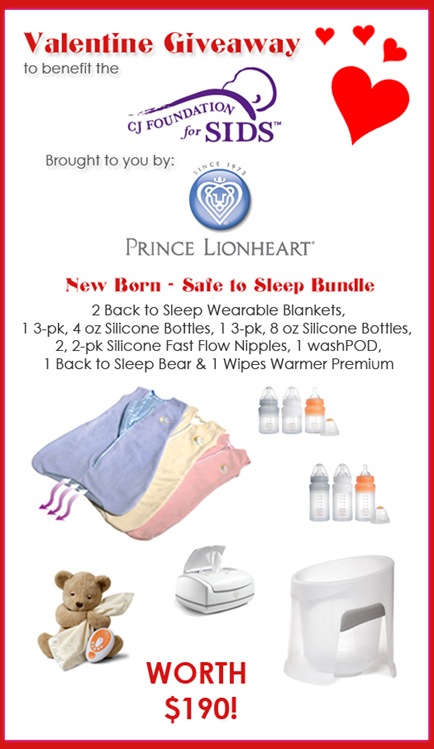 Prince Lionheart and CJ SIDS Foundation Giveaway Details:
Details can be found on our Prince Lionheart's Facebook Page in the "SPECIAL" Tab
To enter the giveaway, please click here. Scroll down the page to Prince Lionheart Giveaway Entry and while you need not donate to enter, we hope you will as this is truly for an excellent cause. Just select a $5 donation or no donation $0.
Once you have entered the giveaway, please visit our friends at their CJ FOUNDATION for SIDS Facebook Page and let them that you have entered the giveaway.
All proceeds go to CJ FOUNDATION for SIDS and the Winner will be chosen randomly and will be contacted by Prince Lionheart directly on February 15th 2011.
Available to US residents only. Not available to Prince Lionheart employees.
To learn more about the CJ Foundation for SIDS, please click HERE
*This giveaway is not affiliated with The Bragging Mommy, we are just sharing it with our readers.