I don't like germs. They scare me
. During Flu season, I am a hand-washing, house-sanitizing crazy mom….which is why I love the summer months. But even during these months, I am still trying to keep my family from picking up germs. I was so excited to receive a Purely Product Pocket Purifier for all my sanitizing needs
.
"Clean, healthy living can be like running a germ gauntlet. Pocket Purifier™ puts a wall of defense in your hands with its handheld germicidal light. Lightweight and convenient, Pocket Purifier sanitizes surfaces and objects with the same UV-C light that sterilizes surgical instruments. Ultraviolet light and nanotechnology eliminate 99.9% of germs that cause colds and flu, plus e-coli, salmonella, mold, fungus and MRSA (staph). At home, at work, in public, for all high-touch surfaces, Pocket Purifier is the most environmentally responsible way to kill germs without chemicals – hands-down."

Who needs Pocket Purifier™
Do you ever… put your purse on the movie theater floor? Jump on the elliptical at the gym? Grocery shop in flu season? Slice raw chicken on your cutting board? Use the computer everyone has access to? Carpool kids? Throw half-eaten snacks back in your backpack? Use an airplane bathroom? Lay a gym bag on a locker room floor? Pick up the baby's pacifier off the ground? Use a hotel remote control? Let someone use your cell phone?
As a germ-a-phobe, I LOVE this hand held germ eliminating light! I typically use sanitizing wipes to wipe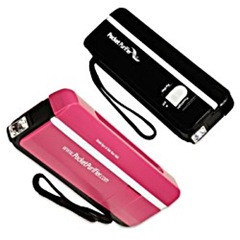 down my house, but there are a few problems with that. First, some of those wipes contain chemicals that aren't the safest thing to use on stuff that my family touches everyday. Second, I can't use them on all surfaces such as my purse, carpet, or my baby's pacifier. The Purely Products Pocket Purifier can be used on any surface (with the exception of skin) and it will kill 99.9% of many of the germs that can make us sick! It also doubles as a flashlight which makes me love it even more.
So how does it work?
Pocket Purifier™ has a built-in germicidal UV-C lightbulb that deactivates the DNA of bacteria, viruses and other pathogens, destroying their ability to multiply. I simply run the light slowly across any surface and it does it's job!! It typically takes 10-15 seconds of exposure to disinfect most everyday items. Easy right?
Things that are BRAG WORTHY:
Small enough to carry around in your purse or diaper bag
UV-C Bulb effective for 9,000 hours (replacement bulbs available)
Quick & easy to use
Eliminates 99.9% of germs that cause colds, and flu, plus e-coli, salmonella, mold, fungus and MRSA staph
Safe to use on electronics such as computers & cell phones
Comes in pink or black
Purely Products Pocket Purifier gets BRAGGING RIGHTS!
Purely Products is generously giving away a Pocket Purifier to one lucky reader!
How to enter: Leave comments below with your qualifying entries. Leave a Separate comment for each entry telling us which you qualify for.
MANDATORY 1st entry– Visit Purely Products and tell us another product that they sell.
1st Mandatory Entry must be completed before you can qualify for additional entries. All extra entries who don't do the mandatory entry will be deleted
3 entries– Like  Purely Products on Facebook.
2 entries- Sign up for the their Newsletter.
2 entries– Grab The Bragging Mommy button and put it on your blog. Leave a link.
1 entry for each– Follow The Bragging Mommy via Google Friend Connect, Facebook, Twitter, subscribe to emails, subscribe in reader.
10 entries– Blog about this giveaway linking to this post. Leave a link.
1 entry per day– Tweet this giveaway including a link to this post, & @braggingmommy in your tweet.
GIVEAWAY IS NOW CLOSED
You can enter this giveaway until August 22nd @10:00 am MST. The winner will then be chosen at random, verified and contacted via email. The winner will have 48 hours to email us back and claim the prize, if prize is not claimed within 48 hours a new winner will be chosen. By entering this giveaway you agree to The Bragging Mommy Full Disclosure. You must be over the age of 18 and live in the Contiguous US to enter.