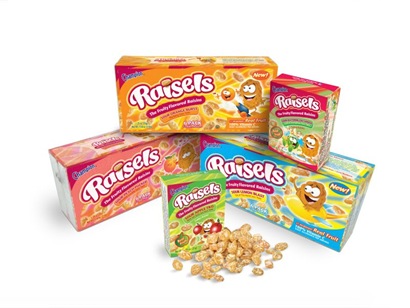 "Simple ingredients mean Raisels are the simply delicious anytime-anywhere snack. 100% Vitamin C, real dried fruit golden raisins, less added sugar than sweetened dried cranberries! – make Raisels the healthy alternative to cookies, candy and sugary fruit snacks."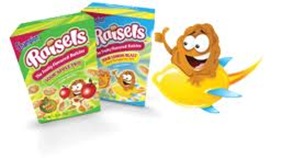 So we had the opportunity to try Raisels in a bunch of different flavors.  They instantly became a hit in our house.  Mainly because of how yummy they taste.  3 year old bug thinks they are candy.  Since they are sour at first and then sweet, he thinks they are "fun candies" :)  I love raisels because instead of giving candy or treats to Bug I am giving him a healthier alternative with this real fruit snack! After trying a bunch of different flavors there wasn't one that we didn't like. These are the perfect snack for kids and grown ups!  Be sure to try Raisels with your family!
Things that are Brag Worthy:
#1 Ingredient is REAL FRUIT
100% US RDA for Vitamin C
Rich in Antioxidants
Fat Free
Cholesterol Free
No High Fructose Corn Syrup or Artificial Sweeteners
No Sodium
Kosher Certified by the Orthodox Union
You can see more info about Raisels (as well as where to buy) at www.raisels.com!
You can also stay up to date with all things Raisel by liking them on Facebook and following them on Twitter.
Raisels get Bragging Rights!

*I received Raisels for my review.