This is a sponsored guest post.
Did you know that children who are read to for 20 minutes or more every day, before the age of five, have a significantly greater chance of higher academic, and ultimately financial success?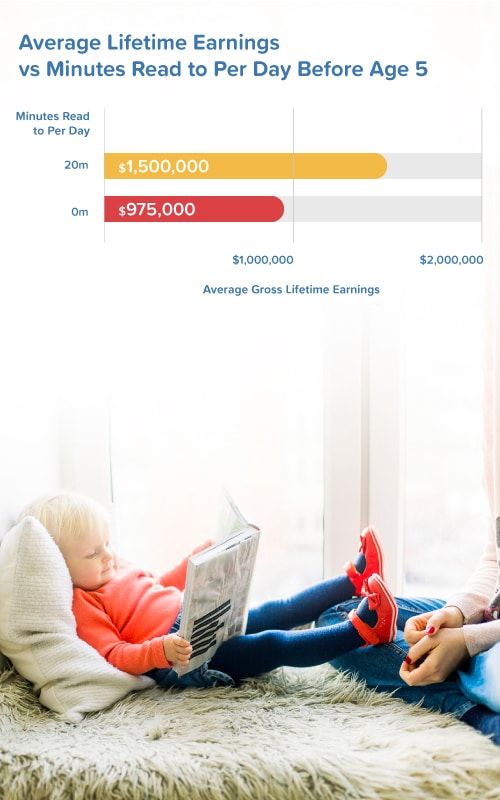 Research has shown that children who read at a second to eighth grade reading level in the third grade have a 77% of graduating high school. Those third graders with a kindergarten or first grade reading level only have a 27% chance. By reading to your child for 20 minutes a day in their early years, a parent greatly increases their chance of attaining a competitive reading level.
Children's book publisher, In The Book, wanted to find out just how many parents were reading to their child each day, so they surveyed a thousand parents of children aged 0-5. It turned out that only 18% of parents were reading to their little ones for 20 minutes or over per day.
The issue that many parents have is that their children may not be fully receptive to "story time" and keeping them interested every day becomes a chore as opposed to a fun, bonding activity. But there are many ways to grab their attention and turn story time from a laborious chore into an activity they'll cherish forever.
Seeing Their Name
Personalized children's books have risen in popularity in recent years, and for good reason. When a child sees their name on the cover, woven into the story, and even, sometimes, in the illustrations themselves, their natural curiosity is kindled and they can relate to the story far better.
As well as helping them recognize, hear, and importantly spell their name, the book instantly becomes an adventure and can introduce them to different cultures and ways of life. Books become worlds they can revisit time and time again.
Story Time as a Routine
Another way to ensure your child stays interested in story time and that it doesn't simply become a 'chore' is to set aside 20 minutes every night, or in the day, for reading. They'll start to associate reading with spending time with mommy or daddy, or even grandma or grandpa, and this consistent routine will help them bond with you as well as develop their own social skills.
So, while the educational and eventual long-term financial benefits of reading are proven, the act of reading and 'story time' is one that parents can use to nurture the parent-child bond, and one that the child is sure to look back on with happy memories.