This post is brought to you by Caitlin Bell.
The work-from-home culture is here to stay, and needless to say, working from home is becoming easier by the day. We are now getting habituated to virtual work environments. For anyone wondering about the effectiveness of virtual work environments and how team leaders bind their team members constantly, it's time you familiarize yourself with the concept of modern age team building kits.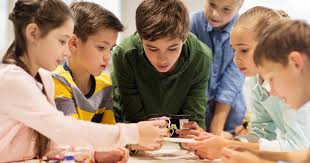 Whether you are a part of a team or lead a team in your organization, building team skills is essential for good results as well as good work ethics. This is where virtual team building kits come into the picture. These are tools that help increase employee engagement and productivity. They are physical kits that can be shipped anywhere and used during virtual team-building sessions.
Odyssey has a varied collection of these kits that are meant to achieve particular goals. They call it, "Helping Hands and the DIY Build a Hand program". This kit is available as a DIY product, either you can assemble it yourself with the instructions provided, or with the help of facilitators from Odyssey. This has even proven to be a great team building icebreaker.
But how does this even work?
The Helping Hands kit enables participants to volunteer and build a hand as well as write personal notes to the recipient. They can then discuss this experience with their co-workers and colleagues. It helps them to connect with their colleagues by doing something that can make a difference.
Virtual Team Building through Odyssey's DIY-Build a Hand's Program
The following steps are followed from the shipping of the kit to receiving it:
Shipping of the Kit: The kit is shipped in advance to the participant along with all the material required to build a hand.
Building Together-Virtually: Everyone is gathered on the organization's preferred virtual platform, and the significance of the life-changing gift they are about to build is discussed. Then participants are encouraged to build while in breakout groups, talking to each other and helping each other out at every step of the building process.
Debriefing the experience: Here, the participants are briefed about what all is required of them and how they are supposed to function.
Return the finished Hands back to Odyssey Teams: The finished hands would be distributed around the world to those in need of prosthetic arms.
Follow Odyssey Teams: Stay in touch with the activities of the Odyssey Teams/Ellen Meadows Prosthetic Hand Foundation and see how the hands are making a difference in the world through pictures and stories of the recipients.
Imagine that you get the opportunity to create meaningful bonds in your team by availing DIY-Virtual kits and you make a lasting impact on somebody's life. Additionally, you even get to witness it.
Due to the immense success of the program, the Helping Hand DIY Virtual Team Building Kit by Odyssey is available in different packages, for different purposes — ranging from a corporate package to packages meant for board members, etc.,
Summing up the reasons why this particular kit is beneficial for your organization, a few reasons are:
Increases participant engagement
Establishes relationships
Makes team coordination better
Stimulates challenges that a team tackles together
Sparks meaningful conversations
If you feel like your organization needs something substantial to increase its potential, engage in something that makes a difference in the world. In the process, you can make your team-building processes better. And if you are skeptical of the time investment required in such team building activities, here's a secret that every great business has known that may make you rethink your team building.