This is a sponsored guest post.
The installation of an awning in front of your home or business is a decision that makes a lot of sense. If you own an awning, there's no fear of being caught unprepared during a light spring rain or on the sunniest day of the year without protection.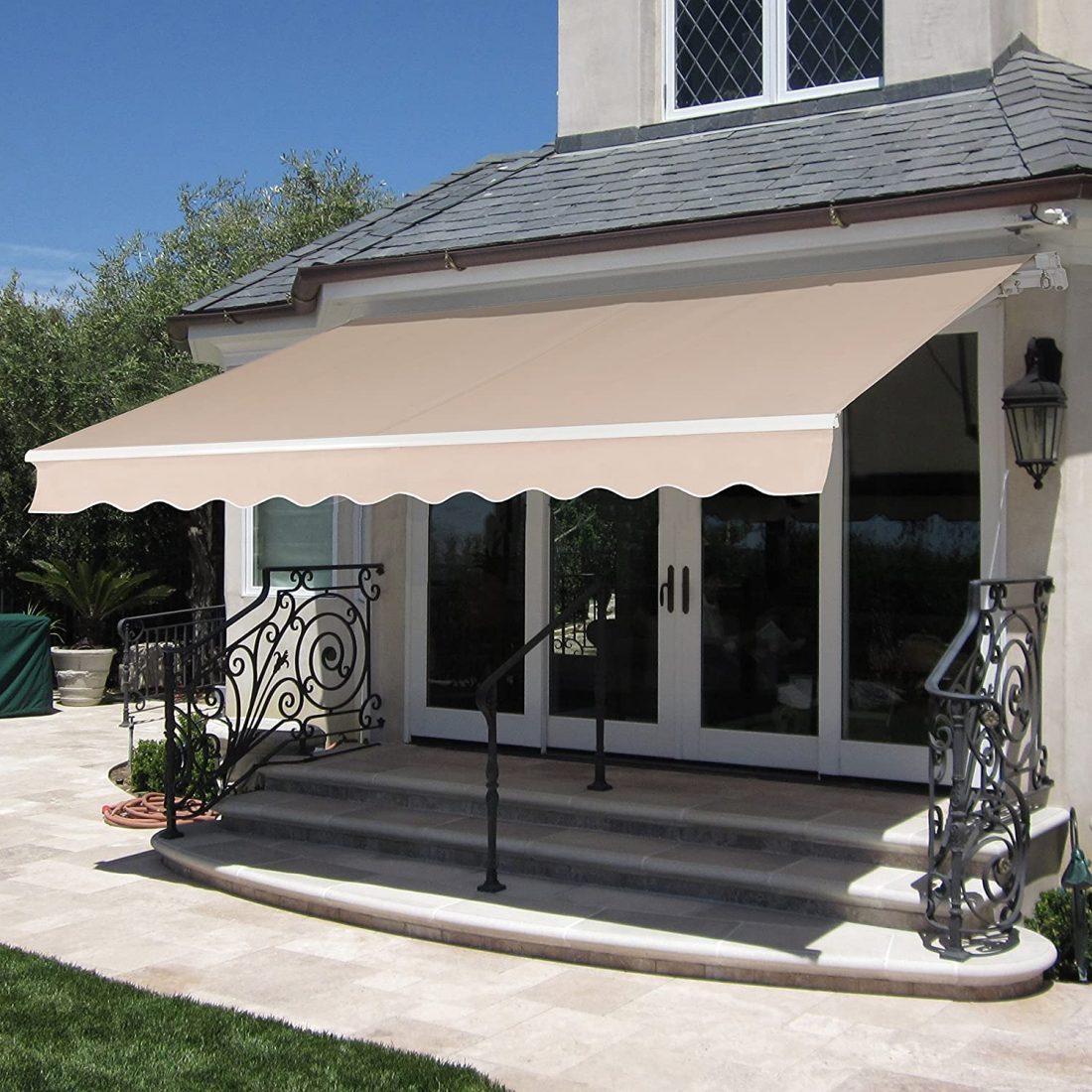 But which type of awning is best? We're going to go in-depth about fixed and retractable awnings so that you can make an informed decision.
A Breakdown of Fixed and Retractable Awnings
There are a number of differences between these two types of awnings, despite the fact that they look relatively the same.
Here's a closer look at both types.
Fixed
Fixed awnings are exactly what they sound like — awnings that are fixed in one location. They remain in one position and in the same shape and do not change. They are usually made with aluminum, wood, or galvanized metals frames and are attached to a home or building on the wall above a window or door. The frames are sometimes covered with a durable fabric that can withstand outdoor conditions.
A selection of fixed awnings feature adjustable metal, acrylic, or wood slats that allow the air flow through the awning to be altered. The fabric used for the awning itself is usually replaceable while the frame is fixed.
The awnings that feature slats can be operated manually or through motorized means. Typically, the motorized versions are controlled by an app or a remote and take their cues from special wind sensors. Apps for fixed awnings are available on both Android and iOS devices.
Retractable
In most cases, retractable awnings such as this Go Retractable range here are made from water-resistant, high quality fabric. They are available in a wide range of colors, patterns, and textures.
The aluminum frame of the awning is attached above a window or door and then secured to a wall, overhang, or roof. The arms of the awnings are incredibly lightweight but still very strong, with the ability to extend and retract, pulling the fabric into a roller.
Like fixed awnings, they can be controlled manually or through means of motorization. They are also available for control through apps and standard remotes. There are apps for iOS and Android devices.
The Pros and Cons
Fixed
Pros:
Sturdy frame construction, designed to be used year round
Possible to add side screens to protect from the wind and sun
Available in a variety of shapes and sizes
Can provide permanent coverage to an area
Can be customized with logos, contact information, and advertisements
Cons:
Constantly exposed to the elements
Retractable
Pros:
Convenient
Lightweight construction for easy transportation
Easy to retract ans extend
Can be extended partially or fully
Longer lifespan
Cons:
Less sturdy than fixed varieties
Which Awning is Best For You?: Factors to Consider
Price
The price of an awning is one of the most important parts. Of course, you don't want to purchase the cheapest awning on the market but you shouldn't feel obligated to buy the most expensive, either.
Often, price has nothing to do with the quality of a product — and awnings are no exception. Your awning should be within your budget and, within it, the best quality that you can afford.
Local weather patterns
Every corner of the world has its own set of typical weather patterns. For example, Australia is a pretty warm place regardless of where you are in the country but one area could be more prone to heavy rain than another. The same goes for wind — some places are windier than others.
This being said, you need to consider what your local weather patterns are like and plan to buy an awning that best suits them.
It wouldn't make sense to buy a lightweight awning if you live in an area with frequent severe wind storms, after all.
Material preference
Awnings come in all shapes and sizes. They also come in a wide variety of materials, and, while material isn't necessarily a critical factor in your decision, it could be important should you be searching for an awning to use for a specific purpose.
Get to know the different types of materials used for awnings and what they are good for. Also get to know their pros and cons as well as their price and general lifespan.
Size
As we said, awnings come in various sizes. These sizes vary in both length and width, which is what makes them so versatile.
Before purchasing an awning, pay attention to its size. Be sure to choose an awning that matches the space you want it to go over.
Remember that not all awnings fit in all spaces and that sometimes, awnings that are too small can actually do more harm than good.
Conclusion
A good awning can transform outdated outdoor spaces into something fresh and new. They are both useful and stylish, and are easy to get your hands on. In addition, they require very little maintenance.
Regardless of which type of awning you prefer, it's safe to say that both are great options. Fixed awnings are ideal for everyday, long-term use while retractable awnings are best suited for more casual use. Before jumping into making an awning purchase, ensure that you know what size you want, what materials you like, what your local weather is like, and how much you can comfortably afford to spend.