"Popina Swimwear (formerly Poppi Swim & Sport) is inspired by the past and the great women who wore them. Born from a vacation to the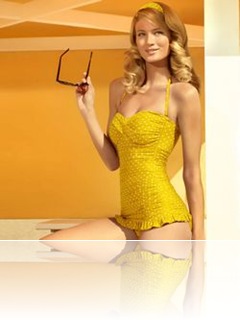 Mexican Riviera, one of the first swim suit styles was created because I could not find a fashionable swimsuit that fit and flattered. I have always had a passion for styling of the past (40's and 50's in particular) and the swimwear was no exception. Reaching back to those eras, I created styles with the influence of days gone by but with the modern convenience of today's fabric innovations and bathing suit construction. What's great  about Popina Swimwear is that you can be active or just relax on the beach in style. You will find Popina Swimwear somewhere between the Copacabana of the 40's and Ipanema today." -Pamela Levenson, Owner/Designer Popina Swimwear
When I came across Popina I immediately fell in love with their Retro Swimwear.  I love the look of vintage swim suits, so I was excited to see that you can buy new suits that have the same look.  Their Jantzen Swimwear choices are so cute, I love, love love them! 
I ultimately chose a bikini to review because they have modest bikinis with full coverage.  When my bikini arrived I immediately tried it on and it fits me really well.  The colors are bright and vibrant (more so than in the pictures on the website).  Also, the fabric is nice and seems like quality that will last.  I can't wait for the pools to open so I can show off my new bikini from Popina!
I absolutely love Popina's Vintage Swimwear, not only is it fun and adorable, but it is great quality as well!
You can see all Popina's fabulous swim wear and accessories by visiting www.PopinaSwimWear.com!
Stay up to date with all things Popina by following them via their: Facebook,  Twitter, Blog, & Newsletter.
Popina Swimwear gets Bragging Rights!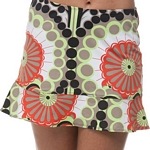 *I received a Swim Suit from Popina for my review.