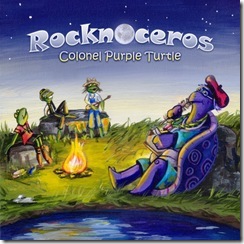 I've mentioned before that my daughters are music lovers. They get it from their dad. I am glad they like it so much, but I have anxiety about the kind of music that the radio has to offer. The only station I let them listen to is Radio Disney because I feel the need to protect their ears from most of the other music out there. Well, Radio Disney is getting pretty old. We are a little tired of the songs that are played over & over so we were very excited to receive the Rocknoceros Colonel Purple Turtle Kids CD.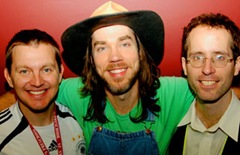 "With an astounding variety of musical styles, sounds, and compositional devices, the world of a mythical reptilian Colonel and his friends in their make-believe home
of Soggy Bog comes alive on Colonel Purple Turtle. This album offers energetic music that is never raucous, reflective music that is never boring, and interactive music that does not patronize children.  Above all, Colonel Purple Turtle exposes kids to a world of musical tone color that goes far beyond the industrial gray of electric guitars, synthesizer keyboard, and drums. On this recording, small ears are opened up to the colorful nuance of a violin-viola-cello string ensemble, the harmonic language of jazz, the velvety blend of a barbershop quartet, the rhythmic complexity and vitality of Latin music, the antique sound of a recorder ensemble, and the relaxed style of finger-picking acoustic guitar, in addition to the driving
energy of rock and roll. …"
This CD, by the Rocknoceros,  is my girls' new favorite thing to listen to these days. They turn up the volume in their room & have lot's of fun dancing & singing to it. I often hear them singing the songs around the house while they are doing their chores or just hanging out. And, I actually catch myself singing one of the songs quite often as well
. The tunes are really cute & perfectly suitable for the ears of my young girls. Great children's music is a must have in our house, & we found an album that I know my kids will listen to over & over for years!
Perfect for young children
Lots of fun, upbeat songs
Includes a variety of different musical sounds
Sung by award winning artists
Is a CD you can feel good about your kids listening to
Rocknoceros Colonel Purple Turtle Kids CD gets BRAGGING RIGHTS!