When I was young, I loved American Girl Dolls! I even read several of the American Girl books and my favorite one was Samantha. I was really excited when I had the opportunity to review the Samantha: An American Girl movie. It was really fun to show my girls something that I loved when I was little.
"Based on the books about Samantha Parkington, the deluxe edition of Samantha: An American Girl Holiday stars AnnaSophia Robb (Charlie and the Chocolate Factory, Bridge to Terabithia) in the title role as a nine-year-old orphan being raised by her wealthy and proper grandmother, Grandmary (portrayed by Golden Globe-winning actress Mia Farrow, Rosemary's Baby) in 1904 New York. While she is well loved and cared for, Samantha is a little lonely living in Grandmary's big house."
"Things are livelier whenever Uncle Gard (Jordan Bridges, Mona Lisa Smile) comes to visit, but Samantha feels that doesn't happen often enough.  Samantha's world begins to change, however, when a young girl named Nellie comes to work at the house next door. She and Samantha become fast friends, in spite of the class differences between them. The movie explores the girls' different worlds and the changes and challenges they face together—including Nellie's dramatic escape from a New York City orphanage. In the end, Samantha and Nellie both find a home and a family they can call their own."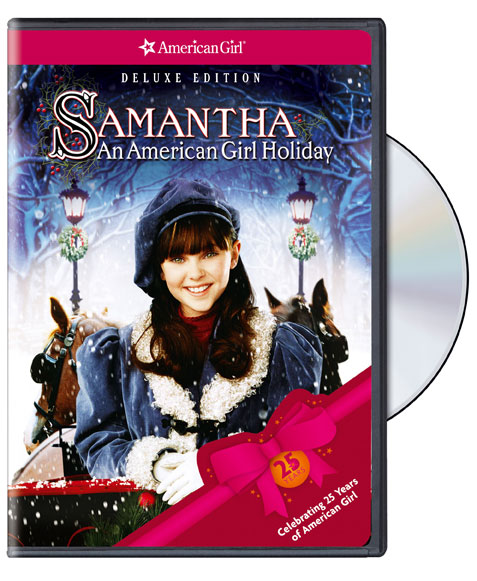 I thought this movie was great. I liked Samantha's confidence and her kind nature. She was outspoken and definitely knew what she wanted & my girls loved her.
I think this movie was perfect for my daughters. Although the movie does have some sensitive story lines (such as the death of parent's), it was still very appropriate for my girls and I had no problems with the subjects that were explored. Samantha is a wonderful role model for girls, and I won't mind if this movie is played over and over in my home (and it will be….because that's how we roll
).
Check out the official site to learn more about this movie!
The Special Features on the DVD were interesting for me, but did not interest my girls. They include:
Ø  An all-new special feature:  Votes For Women: An American Girl: Samantha.
Samantha: An American Girl Holiday joins descendants of the real American Suffragists in a discussion about getting votes for women and the journey for equal rights.
Ø  Mount Bedford News: A Victorian Wedding. A featurette including footage from the wedding scene in the movie.
If your girls love American Girl Dolls, they will definitely love this movie. Own it on DVD today!
Samantha: An American Girl Holiday Collectible Deluxe Edition gets Bragging Rights!
*I received the Samantha: An American Girl Holiday Collectible Deluxe Edition DVD for the purpose of this review.