This is a sponsored guest post.
Arthritis pain can be described as swelling, pain, and stiffness in various joints of your body. Common rheumatic conditions related to arthritis include gout, fibromyalgia, and rheumatoid arthritis (RA). It is so widespread that it affects almost 50 million adults and 300,000 children in the US alone.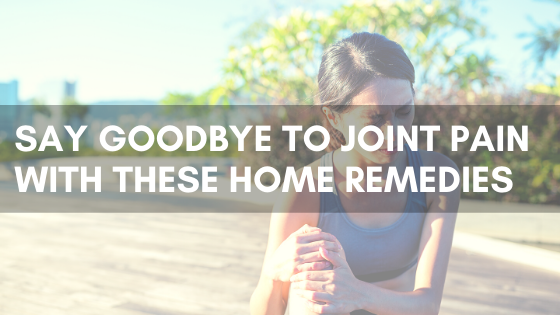 It is not uncommon for doctors to treat this disease with the help of several specialized medications. However, a lot of the medication generally used to treat the disorder has several side effects that can disrupt the patient's normal routine and activities. To avoid the discomfort caused by the side effects of medicines, a large number of people are shifting to natural remedies to cure this condition. Natural remedies have very little side effects on the body, if any, and offer a cheaper solution as well.
Here are some of the most effective natural remedies to cure arthritis:
Losing body fat
There is no question about the importance of fat in our bodies. But if you let fat accumulate, it will cause a lot of problems for you. In fact, too much body fat can result in a person suffering from arthritis.
According to the Arthritis Foundation, every pound of body weight adds about three pounds of weight on the knees. Thus, it is important to reduce your body weight for joint pain treatment. You can reduce your body weight by indulging in physical activities like walking and taking the stairs. As your body weight reduces, your joint pains caused due to arthritis will also reduce significantly.
Massage
This natural remedy has existed for thousands of years. And many researches in recent times have proven that it most definitely is an effective way to cure arthritis.
However, before you go about taking massages, you must make sure to consult your doctor as there are a number of different kinds of massages and if you don't make the right choice, it might just backfire you and aggravate your joint pain treatment.
Meditation and relaxation
This is an upcoming solution or remedy of various diseases or problems. This remedy was discovered centuries ago. Many times, meditation refers only to being silent, being calm and feeling yourself breathing.
You shall feel the air passing through your nose, reaching your lungs and then releasing from your nose because it will provide another level of relaxation. When you will be relaxed, you will feel a lot better and the pain in your body would reduce drastically owing to the relaxed muscles and a relaxed mind.
Yoga
Yoga helps you in focusing on various fields. It also uses various props to support the body, release tension and be calm.
According to a study that was conducted in 2013 shows it was observed that a six-week yoga program had a drastic effect on people who suffered from RA. Their symptoms reduced significantly and all of the subjects reported experiencing better joint movement and lesser pain.
Consumption of more Vitamin D
Vitamin D intake is essential to strengthen the bones in our body. Various studies have found that people suffering from arthritis have a low vitamin-D count than those who don't suffer from it.
This clearly shows that it is very important to increase the vitamin-D intake of your body. The best way to do so is to expose yourself to natural sunlight. However, if you live in areas that experience little sunlight or if you have to spend the majority of your time indoors, you can take some vitamin-D supplements prescribed by your doctor.
Increase in the consumption of turmeric
Turmeric is an ingredient we can find in all our kitchens. Not only does this golden powder elevate the taste of your food, but it also has the ability to help you cure arthritis. Turmeric has natural anti-inflammatory properties that help reduce the inflammation and subsequently reduce the pain.
You can start adding a bit more turmeric in the food you consume. If you consume sufficient quantities of it regularly, you will notice a significant reduction in your pain.
Over to you…
The next time you are about to head off to the pharmacist to buy your medication, remind yourself of these natural remedies and make sure that you use them. If you follow these natural remedies, your arthritis will most definitely be cured and you won't even experience any dreaded side effects.