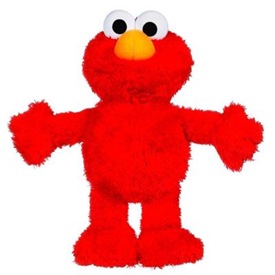 Elmo is a big hit in our house. We have Elmo books, we watch Elmo shows, and we have Elmo toys. When you have young children, I don't think you can get too much Elmo! We certainly can't so of course my son was so excited to receive the Sesame Street Playskool Squeeze A Song Elmo.

"Elmo loves to sing! Preschoolers can control all the fun by making him sing loudly or softly. A soft press of his tummy and he sings softly or press his tummy harder to make him sing louder!"
This cute and cuddly little guy is lot's of fun! Push his tummy and he will sing for you. How loud he sings will depend on how hard you push his tummy. The 2 songs that he sings are 'Twinkle, Twinkle Little Star' and 'Mary had a Little Lamb'. My son isn't quite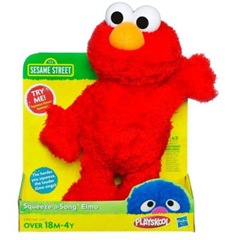 strong enough to make this Elmo sing, but he loves it when we help him. Elmo's mouth opens each time his belly is pushed and my son likes to stick his fingers in there so Elmo can 'bite' them
. He has had a lot of fun with his new Squeeze a Song Elmo! He has even learned to say 'ELMO' (which we think is pretty darn cute).
Things that are BRAG WORTHY:
Sings two different songs
Elmo's mouth opens when his tummy is pushed
Can be loud or soft
Great for children 18+ months
Batteries are included
He sings ONE note with each push on his tummy
Sesame Street Playskool Squeeze A Song Elmo gets BRAGGING RIGHTS!!