What kid doesn't like Play-Doh?  Not one that I've ever met :)  3 year old Bug is a big Play-Doh fan, so we were thrilled to be able to try out two of the newest Play-Doh products for Spring 2011.  We received:
Play-Doh Smashed Potatoes Game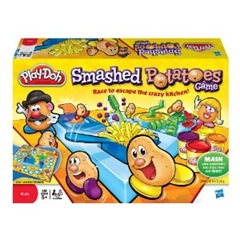 "Uh oh! Your little spud pals are in big trouble — they're in the kitchen and they could be made into "food"! Mold potato pal pawns out of PLAY-DOH modeling compound and then use the spinner to move them across the board. But be careful of where you land, or else your spud buddy could get snipped, sliced, pressed into "fries" or cranked into "chips!" Help your pal get out of the kitchen and back to the farm first and you're the winner!"
Recommend for Ages 5 and up.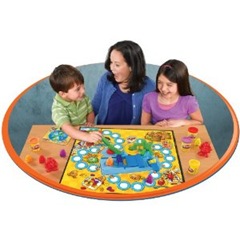 We have had a blast playing this game as a family.  Even though Bug is only 3 he did really well understanding and playing the game.  The actual game of racing to the kitchen lost his attention after about 10 minutes but we played with the Potato pal characters for about 30 minutes after that.  He has asked to play it every day since we got it.  It's a huge hit!
Play-Doh Flip 'N Serve Breakfast Playset
"Whip up some delicious fun with this breakfast set! Use the molds and "griddle" to create scrumptious looking "eggs", "pancakes" and much more out of PLAY-DOH modeling compound. Then, use the waffle griddle to press out a picture-perfect "waffle". Would you like a "banana" or a "croissant" to go with your "French toast" or "hash browns"? But of course! A knife, spatula and fork even let you "serve up" your creations. When you're done "cooking", just put everything back inside the container to keep it all safe and sound for your next imaginative "breakfast" or "brunch"!"
Ages 3 and up.
This is a really fun Play-Doh playset.  Bug's favorite part is the whip cream/milk shake maker.  He loves to make a waffle and then put whip cream on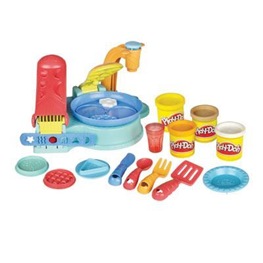 top.  Mainly because he loves whip cream on his pancakes & waffles when we go out to eat for breakfast 🙂 When you are making pancake and waffles it is really fun how the tray flips around when you push down the lever. Also fun that is comes with all the kitchen utensils so Bug can pretend to be a breakfast chef extraordinaire! He has spent hours and hours playing with this playset and I know there are many more to come.
Trying out these 2 new products from Play-Doh has just re-affirmed to me that you can't go wrong when it comes to purchasing Play-Doh products!
You can purchase these new Play-Doh items online and in-stores now!
Play-Doh Smashed Potatoes & Flip "'N Serve Breakfast get Bragging Rights!

*I received the 2 Play-Doh products mentioned above from Hasbro for my review.