Remember this post? Well, I am back with more adventures on the Strider Running Bike.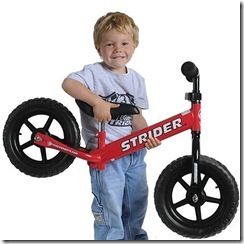 "With the Strider™ PREbike, there are no "tricycle tip-overs" or "training-wheel wobbles" to create a fear, hesitancy, or dislike of bike riding.  The Strider™ running bike helps toddlers learn balance and coordination BEFORE pedaling, which develops glittering confidence. So ditch the tricycle and training wheels, and teach your child to ride a bike sooner and safer with a Strider™."
I can see my daughter progressing a little bit each time she rides the Strider PREbike. Back in November, she was hesitant about getting on the bike too much. Mostly because she struggled to keep it upright even though her feet were always on the ground. I had to really encourage her to try it every time we went outside to play. Now, she will choose to ride it on her own and can push herself along with little trouble (and steer at the same time
). She hasn't perfected the 'glide' yet, and is still pretty slow, but she gets better each time she rides. She gets motivation from my older daughter who likes to ride the Strider bike just for fun. She can't wait to be as quick as her sister!
We haven't had a whole lot of outside playtime lately, since it has been so cold here, so I am hoping she doesn't loose the progress she has made once we get out again. You can bet that by spring we will be taking lot's of rides to the park for practice!
"Give your child a head start.
The Strider™ teaches balance and coordination
Healthy kids develop essential motor skills early in life.  Pediatricians agree that learning balance, coordination with exercise jump-starts a child's growth and development.
Enter the Strider™ PREbike.
The Strider™ teaches your child balance, coordination and develops glittering confidence. Trikes and bikes with training wheels don't.  Traditional bicycles place too much of the focus on learning to pedal — skimping on developing your child's motor skills.  And tricycles are heavy, clunky and difficult for kids to control."
With the help of the Strider PREbike, I feel pretty confident that my daughter will be riding a regular pedal bike by the end of this coming Summer. Wish us luck!

*I received a Stider Running Bike for the purpose of this review