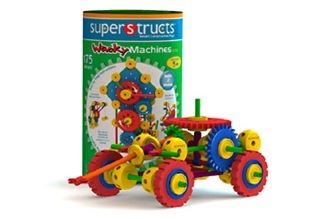 Leah loves to build things! She loves to build with blocks, puzzles, and even make forts in the basement with pillows and blankets! So when we received the Superstructs Wacky Machines Building Set she couldn't wait to get started!
I love how the Superstructs are made. They fit perfectly within each other and comes with tons of pieces for hours of building fun.
"The multiple, award-winning 126-piece Superstructs™ Big Builder set provides everything you need to build detailed, hard working, construction vehicles. Build a working forklift, dump truck, crane, or utility truck with the enclosed step-by-step plans. And once you have mastered these, you can take them apart and use your imagination to build other great creations!
4 Big durable tires that are ready to roll over any terrain.
32-Page construction guide with detailed step by step plans to build 4 hard-working vehicles
126-Pieces including pulleys, wheels, and characters.
Packaged in a 8"x8"x15" (LxWxH) Canister – perfect to store all the pieces" (Superstructs website)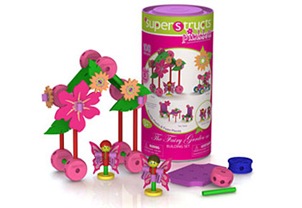 I love how easy the instructions are and can be followed very easily. Leah couldn't build these items on her own BUT she still loved building and creating her own items. She also had tons of fun playing and building with Daddy!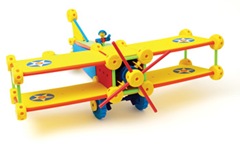 I also love the other construction toys they have. They have a really cute Fairy set and Flight Set that are perfect for boys or girls.
"Superstructs™ sets range from starter building rod and connector sets to 'themed' products that merge these building elements with popular settings to create solid buildings, ships, vehicles and characters for pretend and fantasy play" (Superstructs website)
Find out where these great building sets can be purchased at www.superstructs.com.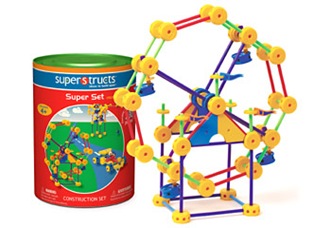 Superstructs Wacky Machine Building Set gets Bragging Rights!