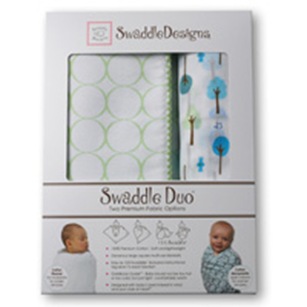 I remember when I had my daughter one of the first things I learned about was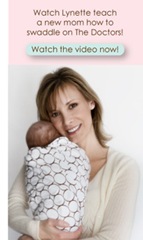 how to swaddle her so not only would she be happy and sleep better but also be safe and sound in her crib. I tried and tried and could never get it right! I  wish I would have had the tutorial from Swaddle Designs on How to Swaddle, because I was a little clueless.
Swaddle Designs has a great website with not only wonderful products but also great information for new time (or old time like me!) parents! 
I absolutely love the new SwaddleDuo by Swaddle Designs. "SwaddleDesigns® is introducing the SwaddleDuo™. SwaddleDuo offers two premium, yet different, baby soft cotton swaddling blankets – two swaddle blankets in a wonderful gift box: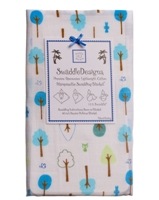 The Ultimate Receiving Blanket® is a lightweight premium cotton flannel blanket – for moderate to cooler environmental temperatures.
· The Marquisette Swaddling Blanket® is a very lightweight openweave cotton blanket – for warmer environmental temperatures.
With the SwaddleDuo, parents will be prepared for a variety of environmental settings – cool, moderate and warm."(SwaddleDesigns)
What I learned about these great new blankets is that baby shouldn't be too cold or too hot but just right- comfortably warm! SwaddleDesigns calls this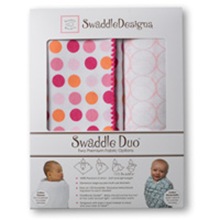 the Goldilocks Guide™" The Goldilock's Guide helps new parents remember the importance of keeping baby comfortably warm.
SwaddleDesigns strives to help new parents care for their baby by providing accurate and up-to-date information, so parents can may make informed choices. SwaddleDesigns Safe Sleep Program includes recommendations from the AAP and the NIH as the company strives to increase awareness of Safe Sleep practices and help parents reduce risk of SIDS." (SwaddleDesigns website)

"According to leading SIDS researchers, both overheating AND overchilling are risk factors for SIDS. In addition, it's important for parents to understand that when baby is too cool during sleep, baby will use valuable energy to stay warm instead of growing and thriving. Over the past few years some juvenile product companies have over focused on overheating as a SIDS risk factor, and there has been a lack of balanced conversation regarding insufficient thermal insulation – the danger of baby being too cool – as a risk factor for SIDS. It is time for a balanced information where parents are educated and reminded of their important responsibility to make sure baby is not too hot or too cold, but comfortably warm." (Swaddle Designs website)
I love how informative their website is and you can find lots of other super cute and awesome gifts for the babies in your life!
"Founded by Lynette Damir, RN, in 2002, SwaddleDesigns was the first company to introduce the large square swaddling blanket to the US and many countries around the world. SwaddleDesigns is known for their premium quality fabric, fabulous colors and prints, decorative edge, and the innovative 123 Swaddle® instructional label that helps new parents master the art of swaddling. SwaddleDesigns swaddling blankets are perfect for swaddling and have many uses such as a privacy throw for breastfeeding moms, a tummy time play mat and a cover over the stroller." (SwaddleDesigns website)
Things that are Bragworthy:
Perfect gift for new mommies

How To Tutorial on How to Swaddle and keep baby Safe

Premium, Quality Fabric in such cute prints and colors!

Swaddle Duo comes in 17 styles with MSRP of $38!

Learn more about SIDS and how to prevent it also learn safe sleeping patterns for baby!
The SwaddleDuo by SwaddleDesigns can be purchased at www.swaddledesigns.com!
SwaddleDuo by SwaddleDesigns gets Bragging Rights!
One lucky winner will win the Classic Peace Love SwaddleDuo in Pink or Blue!
How to enter: Leave comments below with your qualifying entries. Leave a Separate comment for each entry telling us which you qualify for.
MANDATORY 1st entry– Visit SwaddleDesigns and tell us another product they carry that was not mentioned in my review.
1st Mandatory Entry must be completed before you can qualify for additional entries. All extra entries who don't do the mandatory entry will be deleted.
3 entries– Like Swaddle Designs on Facebook
3 entries– Follow SwaddleDesigns on Twitter
5 entries– Enter to win a Family Vacation here. Tell us the name you used to enter.
2 entries– Grab The Bragging Mommy button and put it on your blog. Leave a link.
1 entry for each– Follow The Bragging Mommy via Google Friend Connect, Facebook, Twitter, subscribe to emails, subscribe in reader.
3 entries– Blog about this giveaway linking to this post. Leave a link.
1 entry per day– Tweet this giveaway using @braggingmommy and @swaddledesigns. Include a link to this post in your tweet.
GIVEAWAY IS NOW CLOSED
You can enter this giveaway until June 8th @10:00 am MST. The winner will then be chosen at random, verified and contacted via email. The winner will have 48 hours to email us back and claim the prize, if prize is not claimed within 48 hours a new winner will be chosen. By entering this giveaway you agree to The Bragging Mommy Full Disclosure. You must be over the age of 18 and live in the Contiguous US to enter.*I received a Tummy Time Air mat for the purpose of this review