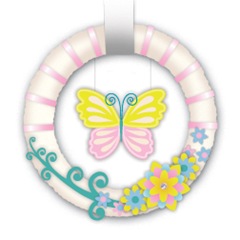 "Wreath Wraps™ are designed to be used on Flora Craft™ brand Styrofoam™ wreaths sold in craft stores and discount stores like WalMart all over the country. The felt used to make the wraps and embellishments are made for 100% post consumer recycled waste; mostly empty soda and water bottles. You can make a fun, beautiful everyday or holiday decorative wreath and keep harmful waste out of the landfill."
The Christmas designs will be available on line for this holiday season and the everyday design will hit the stores next spring.  The Bragging Mommy Reader's opinions in this survey will be decisive in determining which designs are ultimately offered for sale.
Take the Survey By clicking Here or going to this link: http://holoma.qualtrics.com/SE/?SID=SV_1Mk1j5NxA3qn8Qk.
When you click on the link it will take you to the first page of the survey. On that page you will be able to click on a separate link to view a fun  2 minute demonstration video. The survey itself should take no more than 6 minutes to complete.
3 winner's will be chosen from the completed surveys to win a $100 Visa Gift Card!
*This is a sponsored post.  The gift cards are being given away by Holoma inc.