1, 2, 3… KIDS LEARN THAT MATH IS EVERYWHERE IN
NICKELODEON'S NEWEST EDUCATIONAL PRESCHOOL HIT
Fan-Favorite Series Makes Its DVD Debut on June 28, 2011
"They're mini, they're mighty and they're built for math!  Nickelodeon is bringing its hit animated preschool series that encourages tots to become strong and mighty to DVD with the debut of Team Umizoomi on June 28, 2011.  The new DVD will take viewers on adventures to learn about numbers, patterns, and important early math concepts.  The DVD contains four episodes, special features, a Math Mission card for on-the-go math problem solving and the guest voice of platinum-selling Jive recording artist Jordin Sparks.  In addition, the DVD includes a one-year free subscription to Parents Magazine. Created by Nickelodeon Home Entertainment and distributed by Paramount Home Entertainment, the Team Umizoomi DVD will be available for the suggested retail price of $16.99.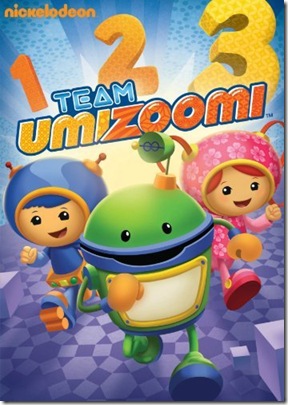 Team Umizoomi features a tiny team of superheroes, Milli, Geo and Bot, who use their mighty math powers to help little kids solve big problems.  The series combines action-adventure missions with an interactive math curriculum designed to help kids develop self-confidence in their math abilities and appreciate the many ways in which math shapes their world.  The Umi Team is not complete without their Umi Friends (home viewers), who help the team along the way while practicing various math skills.  Set to a soundtrack of preschool-friendly pop songs, the series is designed to build upon preschoolers' conceptual understanding of math as they are exposed to core mathematical concepts like numbers, counting, computations, measurement, patterns and shapes."
Team Umizoomi Episode Synopses
The Rolling Toy Parade
Nick has been picked to lead the Rolling Toy Parade going through Umi City.  As he proudly makes his way to the Park, his lion toy tumbles down a hill, breaks apart and is foraged by park animals!  Team Umizoomi must decode Mr. Squirrel's doorbell pattern, search his tree trunk burrow for the missing wheels, embark on a high altitude chase with Mama Hawk and teach the Baby Hawks how to braid a pull string.
The Legend of the Blue Mermaid
Team Umizoomi discovers the statue of the Blue Mermaid (Jordin Sparks) while visiting the beach.  According to legend, the mermaid with her sparkly blue scales once lived happily in the water by Umi City.  But one day, a scheming squid named Squiddy captured the mermaid so that he could keep her sparkling light all to himself.  The team must count, recognize shapes and identify patterns in order to rescue the Blue Mermaid from Squiddy's secret sand castle.  It won't be an easy task as Squiddy will stop at nothing to keep Team Umizoomi from using their mighty math powers to save the day.
Kite Festival
Today is the Umi City Kite Festival and Jeannie is ready to fly her beautiful dragon kite.  Out of nowhere, a strong gust of wind blows the kite out of her hands and scatters its colorful shaped pieces throughout Umi City. Luckily, Geo is a shape expert and the Team is positive they can find all the missing pieces.  They rappel down city billboards, build a hot air balloon and search the tops of skyscrapers.  Can they get Jeannie's Dragon kite back together in time for the Festival?
Wild West Toy Train Show
Geo can't wait to meet his friend Ethan at The Smokey Mountain Toy Train Show and see all the cool trains! As he gets ready to leave the Secret Headquarters, the Umi-Alarm sounds.  Ethan's golden ticket for the show has blown into the exhibit and landed somewhere at the top of Smokey Mountain!  Team Umizoomi springs into action and hops a ride on the toy trains to the top of Smokey Mountain.  Along the way, they use their math powers to get through Crystal Cave, cross Rumble Bridge, pan for gold and build a new engine with Geo's super shapes.
Special Features:
The Blue Mermaid Shapes Under the Sea Game
Team Umizoomi Videos: Meet Geo, Meet Milli, & Meet Bot
We have a big fan of Umizoomi at our house.  And the song gets stuck in all our heads "In a world that's not to far away, Umi City.  You can count on us to save the day, Umizoomi, Umizoomi…"  Yep 3 year old Bug can't get enough of Umizoomi so he was thrilled when this DVD arrived.  I love that the focus is math and I am always surprised by how much he learns from watching Umizoomi.  I highly recommend this DVD, your kids will love it!
Team Umizoomi is available online and in stores today!
Team Umizoomi gets Bragging Rights!
*I received Team Umizoomi on DVD for my review.