This is a sponsored guest post.
With the recent return of vinyl, many are searching for the perfect speaker to pair with their new turntable. However, pairing the right speaker can be challenging if you're not familiar with vinyl.
Vinyl has a warmth that can't be replicated in other audio formats. Therefore, it's crucial to pick the right set of speakers to bring out the organic sound quality of your turntable. This guide will help answer the basic questions of whether you need an amplifier, what to look for in a speaker, and how much you should be spending.
If you have yet to pull the trigger on a turntable, be sure to check out this guide outlining some of the most popular turntables on the market.
Do I Need A Phono Preamp?
Some turntables will only output a phono signal. This signal is too weak to be used with directly as an input to a set of speakers. Instead, you need to amplify the signal to what is commonly called "line" level (also called AUX). This can easily be done with an external phono preamp.
As a side note, If you're looking for a record player with built-in speakers, you won't have to worry about a preamp.
Every turntable should specify whether it comes with a phono preamp or not. If for some reason it doesn't, just look at the output signals. If you see AUX or RCA outputs then it has a built-in phono preamp. If you just have a phono output, chances are you will need a preamp. See also phono stage at the Graham Slee HiFi.
What To Look For In A Speaker
Because the vinyl format offers such high resolution, you want a set of speakers that output as much clarity as possible. We need to be striving for definition and accuracy.
Ideally, the set of speakers should be as transparent as possible. In other words, not coloring the sound by boosting or cutting certain frequency ranges.
Another must is being able to play the audio in stereo. While this may seem obvious, it's not something that I would want to leave out. I don't expect many of you to run into this issue. You can also check out the best set of budget-friendly speakers.
Should my speaker be active or passive?
If you are just a beginner or don't want to mess around with buying an audio-chain, then I highly recommend active speakers. While the internal components may be lesser quality, in-turn impacting the overall sound quality, the hassle-free setup is worthwhile for most beginners.
How Much Should I Spend?
For most people, I suggest spending less than $500 on a set of speakers. Any more than $500 and you will be getting into the advanced set of speakers that are best paired with amplifiers and high-end turntables.
Most of us can get away with a set of speakers around the $250 mark (or even less). The average person won't appreciate the extra level of detailed afforded by the audiophile-quality speakers.
My Top 5 Speaker Recommendations
1. Edifier R1280T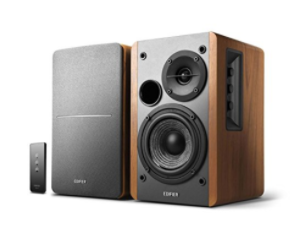 The Edifier R1280T is probably the best set of budget-friendly speakers on the market. They produce the audio quality that is close to "studio quality" and come with everything you need to plug it directly into your turntable.
They are completely powered, so no additional gear or setup is required.
2. Audioengine A2+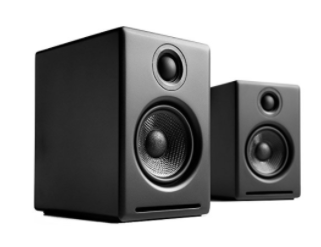 A little bit more pricey, the Audioengine A2+ is another great option for your turntable. They come with a two-way split (the higher frequency to the tweeter, the lower frequencies to woofer).
They are completely powered, so make sure your turntable can output RCA.
3. Klipsch R-15PM Powered Monitor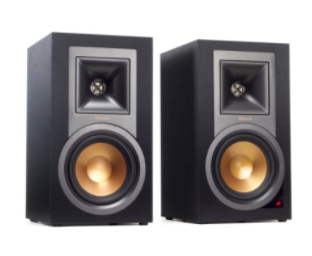 The Klipsch R-15PM Powered Monitor is another great option if you are looking for some decent sound quality. The sound quality is the best of the three so far (reflected in the price). The copper spun magnetically shielded IMG woofers easily fill a small room with high-definition sound.
4. Edifier R2000DB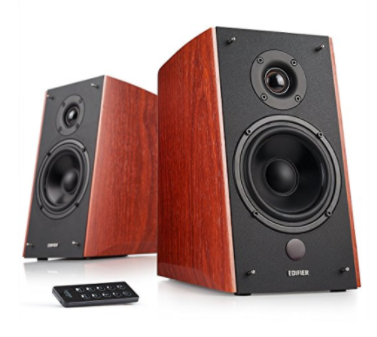 The Edifier R2000DBs is great competition for the Klipsch R-15PM. You'll get a very similar speaker with slightly different looks. Either option will work great on your turntable. However, if your turntable outputs Bluetooth, these are the speakers you should be using. The quality is fantastic and the price is reasonable.
5. Kanto YU6 Powered Speakers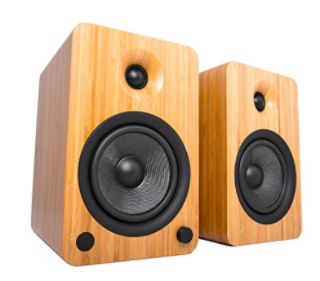 Finally, for those of you who don't have a built-in preamp, the Kanto YU6 Powered Speakers. These speakers come with a built-in preamp you can use if you just have a phono output. The sound quality is great and the look is very modern. Additionally, you can easily connect your turntable through Bluetooth if that option is available.
That wraps it up for the best speakers for your turntable. I'd recommend most of you check out the Edifier R1280T. It bats way out of its league in terms of sound quality. Definitely the best bang for your buck on the market right now.
I hope this has helped clear up a few issues and has helped you make an informed decision when purchasing your next set of speakers.