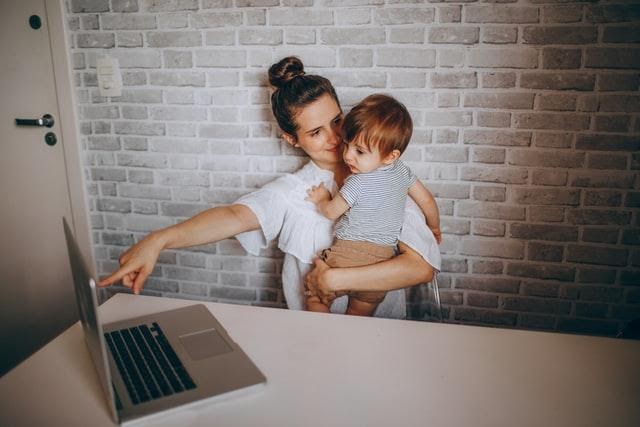 Free image taken from https://unsplash.com/photos/eBzMneKM59Q
Although the media portrays influencers as a digital marketing powerhouse, the reality is that the first influencers didn't put their lives out there just to make money. They did it to share their experiences with like-minded people and to create tight-knit online communities. It's precisely this personalized approach to content that helped the concept catch wings and become a major industry that now sets the trends in digital marketing. According to a Forbes report, 74% of millennial moms are sought by their friends for advice, so it comes as no surprise that moms are some of the most popular influencer sub-niche. Motherhood is a beautiful experience and sharing important milestones such as the baby's first steps can amplify your joy; it can also be incredibly tough, and millions of people could use your advice on the challenges of parenting.
As a mom influencer, you can use your little corner of the Internet to inspire other women, to tell your story, or to create a supportive community for moms with similar goals. You can even turn it into a lucrative career opportunity. But is this the right move for you? Does being a mom influencer really pay off? How can you make your voice heard in an increasingly competitive industry? Here are five essential things to consider before becoming a mom influencer:
Does social media need yet another mom influencer?
The world of influencers, especially on Instagram, can be quite intimidating. There already are hundreds of famous mom influencers, and some, like Chiara Ferragni, Colleen Ballinger, and Anna Saccone, who have millions of followers and make thousands per post, are hard to compete with. So should you even attempt it?
In short, yes. No matter how many influencers there are out there, there's always a need for fresh content and new perspectives. The fact that you're competing with big influencers shouldn't discourage you from telling your story. If anything, it should inspire you. Don't be afraid to start small and build your online community because there are plenty of growth opportunities for you. Besides, you don't need to reach Chiara Ferragni's numbers to be successful. More and more brands are looking for micro influencers because they have higher engagement rates and more targeted audiences.
How public will your child be?
Before you become a mom influencer, you'll have to make an important decision: will you be fully transparent and show your child to your followers, or will you hide their name and face to respect their privacy? It's a tough call to make, and there are pros and cons for each option. On the one hand, making them public will create a closer bond with your followers, but it could raise concerns for your child's safety and privacy. On the other hand, if you choose to keep your child's identity hidden until they're old enough to consent, some of your followers might not be on board with that, but it may be the best decision in the long run. Ultimately, it's up to you, and you should choose what you think is best for your family.
Even if you keep your child's privacy, you can still create relevant content without putting your entire life out there. For example, you can share your tips on how to take your child to the dentist without vlogging the way there. One thing you should know about being an influencer is that your followers can be curious and feel like they deserve to know everything about you. Even if they mean well, this can feel like an invasion of privacy, so you shouldn't feel pressured to do something that makes you feel unsafe or uncomfortable.
To use or not use influencer apps.
Although it is entirely possible to boost your online following and sign brand deals on your own, without any help, standing out from the crowd can be hard. To make your job easier, you can use influencer apps. Some apps are more general, while others are targeted at specific niches (including parenting). These apps act as a bridge between brands and online creators, helping you find the brand deals that resonate with your content. You can use them for browsing social campaigns and getting in touch with brands you love. Collaborating with brands is one of the biggest parts of being an influencer, so why wait for them to contact you when you can jumpstart the process?
How do you switch from a lifestyle account to a mom account without confusing your audience?
If you look at some of the biggest mom accounts on the Web, you'll notice that many of them didn't start out as mom accounts. Before being mom influencers, many women were beauty, fashion, and lifestyle influencers and, after they had a baby, they decided to share this part of their life with followers. If that is also your case, you may be wondering how much pregnancy and motherhood will affect your existing account. Again, it depends on what you want to focus on.
After you have a baby, you shouldn't feel pressured to post only parenting content. And the other way around, if you feel that motherhood has impacted your life to a major extent and you no longer enjoy creating another type of content, it's your right to switch. However, if you do this, you should try to be mindful of your audience and ask them what kind of content they prefer. Remember, they may have followed you for a specific type of content, and they might not necessarily want to follow you on the next stage of your life. But, many times, you can strike a balance between the two, either by creating a separate channel/social media account or by posting your old content and occasional parenting updates.
Finding your unique voice is key to reaching audiences.
Motherhood is a deeply personal experience, and your unique outlook on it deserves to be celebrated. While there's nothing wrong with seeking inspiration from your favorite mom influencers, copying what they do won't take you very far because audiences notice quickly when someone isn't genuine. As vast as it might be, the mom influencer phenomenon isn't very diverse. Don't be afraid if you don't fit the "white mom living the white picket fence dream" template. Most people don't. Whether you're a single mom, a mom who struggles to balance her career and parenting responsibilities, or a mom who wants to spread the message of body positivity, be genuine, and audiences will follow.