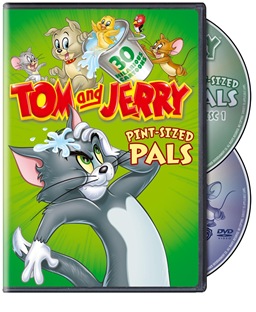 Tom and Jerry are at it again in their fun new movie Tom and Jerry: Pint-Sized Pals DVD. I grew up with Tom and Jerry and I'm so glad that my little Leah fell in love with them too!
"Meet Nibbles, Tuffy, Quacker and Tyke, some of Tom and Jerry's cutest companions on Warner Bros. Home Entertainment's (WBHE) release of Tom and Jerry: Pint-Sized Pals, set for release March 5, 2013. This must-own collection showcases 30 hilarious shorts featuring some of the tussling twosome's most popular pals in a set of hilarious adventures the whole family can enjoy together. The cartoon selection in this collection is comprised of several legendary classics, including an Academy Award-winning title and a number of contemporary shorts.
That mischievous duo is at it again and their never-ending rivalry is fueled by some of animation's most adorable characters in Tom and Jerry: Pint-Sized Pals. Spike the bulldog is at his most intimidating when he's with his precious pup, Tyke. Several adventures featured on this set, including Hic-cup Pup, Pup on a Picnic, That's My Pup and others; feature the lovable Tyke and his over-protective dad, as they become entangled in Tom and Jerry's endless pursuit.
Nibbles, the perpetually hungry little mouse, re-emerges in several cartoons including Mice Follies, where Nibbles and Jerry turn the kitchen into an ice-skating rink, and again in The Two Mousketeers, which won an Academy Award for Best Short Subject: Cartoons. Tuffy, another precious and precocious little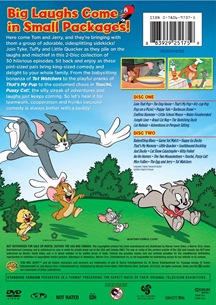 orphaned mouse, isJerry's pal throughout a set of Hanna-Barbera-directed classics, including Little School Mouse which is featured on this set.
Another favorite little pal is Quacker, the sweet baby duckling who mistakes Tom for his mother in That's My Mommy. Quacker appears in several cartoons, including Happy Go Ducky, in which Tom's Easter egg surprise yields more than he bargained for when it hatches and Quacker emerges. In Southbound Duckling, Quacker is determined to fly south for the winter and in Just Ducky, Jerry teaches Quacker how to swim.
Tom and Jerry: Pint-Sized Pals presents viewers with these and several other hilarious and endearing adventures."
Tom and Jerry: Pint-Sized Pals can be purchased at www.amazon.com!
You can also follow all of Tom and Jerry's antics on their fun Facebook page!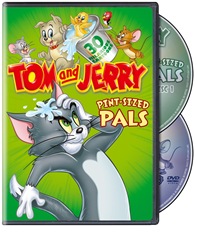 Tom and Jerry: Pint-Sized Pals gets Bragging Rights!