Whether you go for a short trip or a long vacation without the right luggage carrier, the journey is never smooth. If you cannot fit everything you want to pack, what is the point of buying such a luggage case? With so many options these days on the trolleys, carry-on cases, and bags, it is easy to get puzzled.
But do not commit the mistake of buying the wrong carry-on luggage by just going with the exterior look of the bag. What you require is the right blend of the attractive exterior with traveling and packing convenience.
Go through the top seven picks of the season with the latest collection of best travel luggage carry on by LEVEL8 and buy the one you love the most!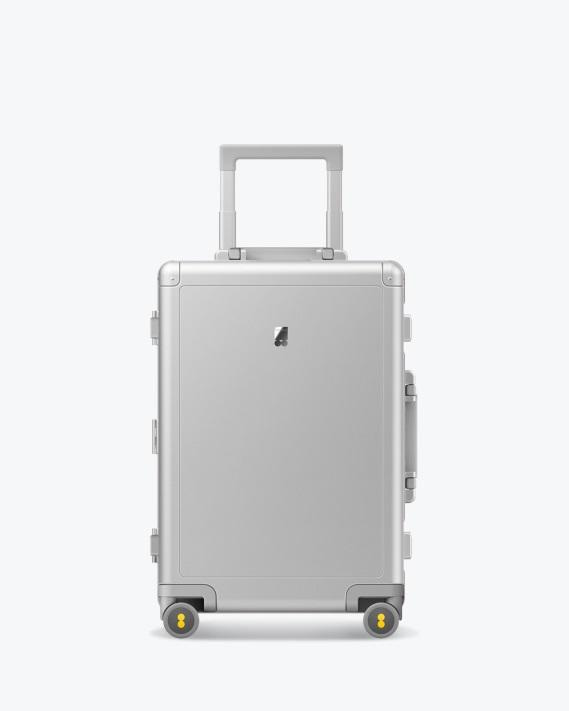 Full Aluminum Carry-On Luggage 20″ – A reliable luggage solution
Durability and reliability are the basic points to evaluate a piece of luggage. This 36litre capacity luggage is unbelievably reliable, with a warranty for a lifetime! You can rely on this one for a long vacation as it has a huge cavity inside. The trolley comes with an overall dimension of 15″ L X 8.5″ W X 22″ H and weighs hardly 10.14lbs. It allows you to pack everything and forget the excess luggage load. The Aerospace-grade Aluminum Magnesium Alloy makes it robust and resilient to damages. With a zipless and keyless exterior, you get a TSA-approved lock. All your valuable items are safe inside this Gibraltar Aluminum Luggage that comes with a 4-piece organizer bag-set.
Full Aluminum Carry-On 20″ – Classic touch of Aluminum
A classic choice for those who like to keep it simple. The smooth texture of full aluminum from America Alcoa brings a premium look. You know it is the right luggage for you by seeing the excellent combination of mindful design on the inside and a sophisticated look on the outside! With a capacity of 36lt and an overall dimension of 15″ L X 8.5″ W X 22″ H, the carry-on weighs 10.14lbs. Made with Aerospace-grade Aluminum Magnesium Alloy, this is a durable pick that is certain to last forever with a lifetime warranty. Ultra-quiet 360-degree spinning wheels, slow-releasing handles, and dual TSA-approved locks make it a top pick among the rest.
Matte Carry-On Navy 20″ – The no-nonsense luggage!
This one is for all those travelers who are looking for a compact solution! Made with Germany Bayer Makrolon®, this has a full anti-scratch exterior. The hard-shell luggage weighs only 7.71lbs with a whooping capacity of 38lt. It fits inside every aircraft overhead compartment with a suitable dimension of 15″ L X 8.5″ W X 22″ H. With the 3-step aluminum telescopic handle, grip it easily without those annoying pinches. The four zero-noise-make wheels can spin in every direction to ease your movement. Keep everything well-protected inside a fully lined up interior that comes with a divider and small pockets.
Textured Carry-On 20″ – Ensures a smooth journey
Selecting the perfect luggage for a short trip is so confusing! Either the size is too large, or the cavity inside is very small. But with this one, you get the right size that you always wanted. Just like the smooth Germany Makrolon® polycarbonate hard shell texture on the outside, you can stay ensured of a smooth journey. The 360-degree spinners below the carry-on ensure noise-free and easy movement. Forget the worries of scratch on the diamond textured exterior. Keep everything perfectly organized with the mesh divider. A 38lt capacity luggage with a suitable dimension of 14.6″ L x 9.3″ W x 21.5″ H to fit every aircraft compartment is a dream travel luggage!
Pro Carry-On With Laptop Pocket 20″ – One for the office-trip
Office trips need something extra when it comes to packing. You have to keep your clothes and other valuable belongings safe and make sure the laptop is handy. With this option, you no longer have to envelop it into several wraps to ensure safety from damage of any kind. Keep your laptop and other electronic essentials on the padded front pocket, which opens with a button. It makes the journey convenient as you do not have to complete unpack to find the laptop on the go. A built-in USB port eases the charging requirements while you travel. Keep everything safe with the TSA-approved locks inside the 35lt capacity carry-on luggage with dimensions of 14.5″ L x 9.3″ W x 21.6″ H.
Road Runner Carry-on with Laptop Pocket 20″ – Always on the go!
Are you always in a hurry? Then this luggage suits you the best! As the name suggests, it is a perfect road runner with ultra-quiet and 360-degree spinning wheels below. It is so light that you can drag it anywhere without an issue. The aerospace-grade Bayer Makrolon® Hard Shell body ensures zero damage and water-resistivity. Dual locks to keep everything safe inside keep you worry-free. With a capacity of 38lt, it also has a front pocket for keeping laptops inside a padded interior. It is easy to fit inside all aircraft compartments with a suitable dimension of 14.5″ L x 9.1″ W x 21.9″ H.
Matte Carry-On Lightblue 20″ – A complete eye-turner
Luggage that steals the show in an airport! Yes, this one is a pleasing treat to the eyes and also your belongings. Very rare are good-looking luggage that holds a great capacity to fit your packing essentials. But this one is an amazing combination of beautiful blue on the outside and a smart design on the inside. Keep everything safe and organized inside fully fabric-lined layers that come with mesh pocket dividers. 38lt in capacity with an overall dimension of 14.6″ L x 9.3″ W x 21.5″ H, this Germany Makrolon® polycarbonate hard shell carry-on is an allrounder. Move easily with telescopic handles of aluminum alloy and four 360-degree spinning wheels below that make no noise!
Check out collections
With the amazing features and exceptional quality of the entire carry-on luggage, you will have a tough time picking the best! Buy one or buy more, you will not regret the decision as the luggage will last long. You can visit the official website of LEVEL8 by following the link www.level8cases.com. Check out the amazing luggage collection with exclusive designs that meet utility and beauty. 
Author Bio:
This is Hazel Smith travel photographer and professional writer based in New York, USA.