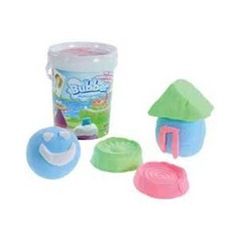 "For children, looking up in the sky and spotting faces, animals and buildings formed by clouds is as common as making sandcastles on the beach. But wouldn't it be amazingly cool if you could reach up, grab the clouds and sculpt anything they wanted? As far-fetched as that may seem, WABA Fun has a way that comes close to making that idea possible.

It's called Bubber®, and for kids, it's almost like sculpting with a cloud. This lightweight and pleasant-to-the-touch compound provides a welcome alternative to cold clay, messy doughs and cloud-watching. Made in the beautiful town of Halmstad, Sweden, award-winning Bubber is the lightest modeling compound on earth! This easy-to-use product feels great in your hands and, since it's so lightweight, children can mould just about anything.
Bubber feels light as air and fluffy as a cloud. Discover the joy of carving in a soft compound that leaves clean, sharp lines and amazing imprints. Working with the soft compound feels pleasantly warm in your hands. Even the littlest hands can shape a large amount of this compound. It's perfect for small and big kids and helps stimulate their fine motor skills.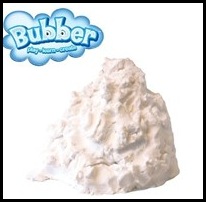 Besides being a favorite activity for kids, Bubber is one of the more appreciated products from a parent's perspective. In addition to the incredible boost to creativity that it offers children, Bubber will never dry out. Even if it's not stored properly, it will still be as pliable the next day. Bubber is strong, yet extremely lightweight. It can make very tall and/or big structures that won't collapse like heavy dough or clays. And, perhaps best of all, Bubber cleans up easily. It actually sticks to itself so you can blot it up or easily vacuum it from floors and carpets."-Waba Fun
Bug loves to play with dough, but since he is 3 he doesn't remember to put it away.  Then it dries out and has to be thrown away.  That can get expensive.  So I was really excited to get to try out Bubber with Bug.  Bubber is a great alternative to clay and dough. It doesn't dry out and has a lot of great features (see Brag Worthy below).  I love that it doesn't dry out.  My play dough problem solved!  It is crumbly but easily presses to itself easily making it easy to pick up.  The small peices also vacuum up easily with my hand vac.  Bug is really enjoying his Bubber and I highly recommend it for molding fun with your kids.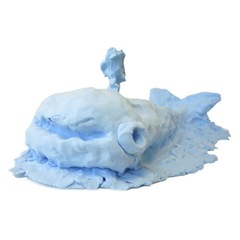 Things that are Brag Worthy: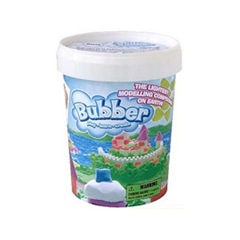 Gluten-Free
Dust-Free
Allergen Free
Never Dries Out
Easy to Clean
Stain Free
Stimulates motor skills
Encourages creativity
Visit www.WABAFun.com for more info and you can purchase Bubber online.
Bubber gets Bragging Rights!

One Bragging Mommy Reader will win a Bubber Bucket!
How to enter: Leave comments below with your qualifying entries. Leave a Separate comment for each entry telling us which you qualify for.
MANDATORY 1st entry– Visit WABA Fun and let us know another product you'd love to have for your kids!
1st Mandatory Entry must be completed before you can qualify for additional entries. All extra entries who don't do the mandatory entry will be deleted.
1 entry– Tell us one of the benefits of Bubber.
3 entries– Like Waba Fun on Facebook.
2 entries– Grab The Bragging Mommy button and put it on your blog. Leave a link.
1 entry for each– Follow The Bragging Mommy via Google Friend Connect, Facebook, Twitter, subscribe to emails, subscribe in reader.
2 entries– Blog about this giveaway. Leave a link.
1 entry per day– Tweet this giveaway including a link to this post and @braggingmommy in your tweet.
GIVEAWAY IS NOW CLOSED
You can enter this giveaway until August 5th @10:00 am MST. The winner will then be chosen at random, verified and contacted via email. The winner will have 48 hours to email us back and claim the prize, if prize is not claimed within 48 hours a new winner will be chosen. By entering this giveaway you agree to The Bragging Mommy Full Disclosure. You must be over the age of 18 and live in the Contiguous US to enter.
*I received Bubber from Waba Fun for my review.