This is a sponsored guest post.
Pavement ants are dark brown or black in color and measure around 1/8 to 1/16 inch in length. These ants are eco-friendly creatures since they help with the process of decomposition of organic wastes. However, they can become a nuisance if present in large numbers in your garden or home. Try one of the following methods to control pavement ants in the garden.
Control the Habitat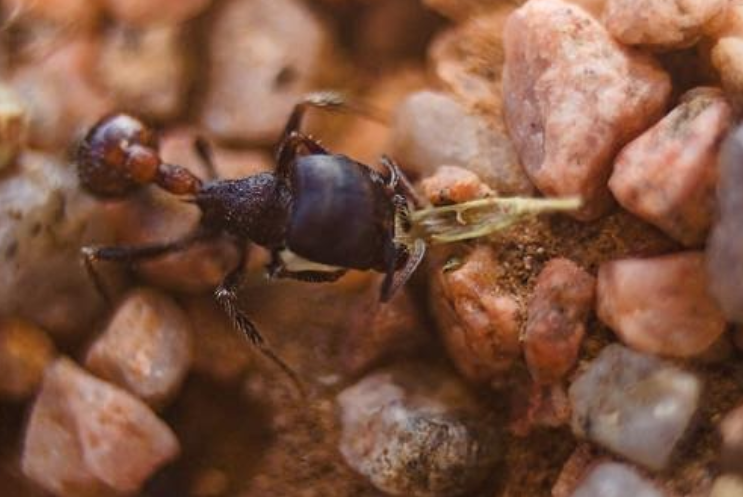 Image via Flickr by LaydeeDem
Pavement ants build their nests underground mostly beneath paved areas such as driveways and pathways. You could control their habitat by destroying the favorable conditions that allow them to build their colonies. Seal cracks around any paved areas in your garden which could be sources for their nests. Try not to use more than 1/2 inch of mulch in the landscaping for your garden beds which could support the ants' home.
Use Boiling Water
You could pour boiling water directly on the ants' nests if you can locate them. This method would be effective if you repeat it several times until the nest is destroyed completely. Avoid spraying boiling water onto plants to prevent damage to them.
Sprinkle Diatomaceous Earth
Food-grade diatomaceous earth is safe to use around children and pets. Simply sprinkle about a 1/2-inch-thick layer of diatomaceous earth on the ants' trails and around their nests. These minute crystals cut the bodies of the ants and kill them fairly quickly. However, this method is effective only for direct contact with ants that are exposed to it.
Spray Liquid or Powdered Insecticides
You could buy over-the-counter insecticides specifically meant for killing outdoor pavement ants. Spray the liquid insecticide on the ants' trails and nests repeatedly to kill the ants. You could apply powdered insecticides directly into the ants' nests which could destroy the colony over time. You could also reapply this powdered substance to create a barrier for any future invasion by these ants.
Set Ant Baits
Setting baits is quite effective in handling an ant infestation. You could purchase baits and use the baits to kill pavement ants outdoor. These baits are resistant to wind and water. Place the baits around ant nests and around areas where the ants move. The ants will eat the bait and carry the remaining poison to their nests for the other ants which consume it. In this process, all of the ants will be killed. The bait may work slowly, but it can destroy the ants' colonies completely.
You might have tried different methods to control an infestation of pavement ants, but you may not have received the results you desired. When home methods of eradication fail, seek help from a professional pest control company. Pest extermination specialists are highly equipped to use various methods to counter an ant invasion. They can help you achieve an ant-free garden and secure it from any future invasion.
With the methods outlined above, you can control pavement ant infestations in your garden with the right products, the right knowledge, and a bit of patience.