This is a sponsored guest post.
Getting older is inevitable. No matter how hard we try to prevent it, sooner or later, we all start to see the first signs of aging. For some, it starts with tiny lines around your eyes when you smile and for others, maybe it's those lines etched across their foreheads.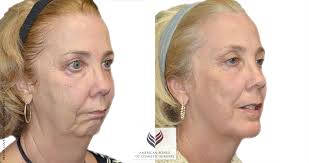 Even though every face has its own story to tell, not everyone is happy to grow old gracefully. Years ago, the only way to turn back the hands of time was with an invasive facelift, which required weeks of recovery. Now, there are a variety of minimally invasive procedures that can ward off the first signs of aging and some that can even prevent them from happening.

Liquid Facelift
Known as a liquid facelift, dermal fillers, and Botox injections can take years off of your appearance in less than 60 minutes. Dermal fillers replace volume loss and help to fill in marionette lines, lines above the upper lip and also the nasolabial folds. Several types of dermal fillers can be used. Most fillers are made of hyaluronic acid, a compound that's found naturally in your body. Results from dermal fillers can last up to 18 months, depending on the areas of injection and type of filler that was used.

Some of the most common types of dermal fillers include:

Juvederm Products: XC, Volbella, Voluma, Vollure
Restylane Products: Silk, Lyft, Refyne, Defyne
Belotero Balance
Botox, on the other hand, does not fill in areas of volume loss. It temporarily blocks muscle movement, which prevents wrinkles. Most commonly used in the forehead, between the brows, and around the eyes, Botox can last anywhere between three to four months. Both Botox and dermal fillers can also be injected to slim the jawline to create a more chiseled appearance.

Many patients combine liquid facelifts with other minimally invasive procedures to maximize their results. These can include lasering, thread lifts, peels and microdermabrasion.

PDO Thread Lift
Similar to the Silhouette Lift, the PDO thread lift uses very thin, absorbable sutures, which are made out of polydioxanone. PDO threads can be used to correct the following signs of aging:

Sagging jowls
Midface volume loss
Lifting the eyebrows
Turkey waddle under the chin
Low face sagging
While PDO threads can be used just about anywhere, they're most effective in the neck and jawline.

Silhouette InstaLift
Silhouette InstaLift is a minimally invasive cosmetic procedure, which uses absorbable sutures and bi-directional cones to lift sagging features of the midface and jawline. The results are immediate and can last 18 months or longer. As the sutures are absorbed, they stimulate collagen production, which also helps to improve the skin's texture and volume. The number of sutures needed depends on the amount of correction that's needed.

Lasers
Lasers have come a long way since ablative CO2. Now, there are a variety of lasers that can lift, firm and tighten the face and jawline, some of which let you resume activities immediately afterward. While C02 is still the gold standard when it comes to facial rejuvenation, Ultherapy, Infinity and Fractional C02 can also help turn back the hands of time.

The CO2 laser, excluding Fraxel, will have some downtime, but it's dramatically reduced from what it was previously. Depending on the depth of treatment and whether a full-face treatment was performed, most patients can resume normal activities 10 days after treatment.

Fat Transfer
Fat transfer is another alternative to a surgical facelift winnipeg. Fat is harvested from other areas of the body and injected into the face to restore lost volume. Typically, it's used in the midface region, one of the first areas to show signs of aging. Fat transfer can also be used to plump thinning lips and fill in hollowness under the eyes and in the temples. 

First Steps
As with any type of cosmetic treatment, the first step in an in-person consultation where you and a surgeon can examine you and then together, you can discuss your aesthetic goals and the best treatments to help you achieve them.

After treatment, it's always a good idea to follow up about a week after for reassessment. By then, any residual swelling or puffiness is resolved and the doctor can see if you need additional treatments to reach your aesthetic goals.

Final Thoughts
Although we can't stop the aging process, there are things you can do to feel youthful and more confident in your appearance. The key is finding non-invasive treatments that work for you and your lifestyle.

Finally, the most important thing to have is realistic expectations. While you can see a dramatic difference in your appearance with minimal treatments, Dr. Mark Glasgold, facelift expert from New Jersey, notes that the results will never be the same as with a surgical facelift.