This is a sponsored guest post.
If you thought travelling was an annoyance, wait till you experience flying with kids. It is a whole different ball game.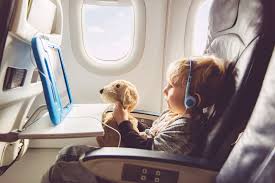 Be patient with you, it isn't a race in time. It is all-doable just has to be managed accurately. When you travel with kids, toddlers especially everything seems to be taking longer than it should.
So allowing yourself to have extra time will save you from half the troubles you might find yourself facing. Leaving about an hour before checkout time will just give you time to stop and catch a breath.
When travelling with children, you don't even entirely know what to expect from security, from your children's tantrums and everything happening at once can just make you edgy and bring out qualities you aren't proud of, to begin with. And only when you thought it can't get worse than this, the stroller stops moving or gets stuck.

Pack wisely, you might think your child will need everything they use at home but they won't. The lesser, the better. Children have a way of adapting to whatever situation they find themselves in, and if they are missing any object, they can always purchase it at the destination. Having to haul extra baggage is never a pleasant sight or feeling. Most importantly pack according to the climate, you don't want to be caught off guard. Imagine forgetting slippers for the beach that could turn into a horror tale rather quickly. Or forgetting jacket for the cold in the evenings, or ski gear because Iceland is freezing.

Travelling is one time you can allow your children screen time. So research on apps you can use, or just buy a children's tab. They have activities to keep the kids busy, and it saves luggage space because you aren't dragging their entire toy room along. It is compact with never-ending possibilities of adventure all in the palm of your hand.

Walk as much as possible; it makes your life easier while managing kids. Because the tube or public transportation isn't the most children friendly. It also gives you a chance to explore more. Having to haul strollers, children and your belongings just become an obstacle.

Do your research. It saves time and gives all your days a structure. For example, some museums are really children friendly. They have dedicated soft spaces for children, and it's a very interactive and knowledgeable experience.
When you are travelling to any place for the first time. The sight of everything will fascinate you and your kids. Enjoy it and take it in. Almost all attractions have child tickets, which concludes that they are children friendly. Also, book in advance, you might miss the spontaneity you and your partner shared once upon a time. But booking in advance can take the pressure off things. It diminishes any surprises you might have to experience. And it would save the adults from a mental breakdown later when everything because it has piled up, becomes too much.

Don't make eating out a chore. Children and families are welcomed in almost all spaces. Whether it is a pub or fine dining, but you should try and avoid extra fancy restaurants if your children are still in the phase where they can throw a tantrum randomly.

You need to invest in a child locator, in most cases it is just a small device, ban or a clip on. It makes a beeping noise when the child crosses the distance you've set. And if that does happen, you can just follow the sound. The alarm makes you alert and also allows the child to realise he/she needs to find the parents. It is a safety precaution along with making the lives of parents worry-free around the world. Some even come with a GPS which allows you to install an app in your phone and instantly find the child if the need be. It is an investment that is worth it.

Experts at Click Pharmacy urge all parents to pack their medications for every trip. No matter how long or short. Kids always tend to fall sick at some point during the trip. From a simple headache, fever, to jet lag, food poisoning, weather changes etc. You could be dealing with a vast pool of issues. It is advisable for all parents to build their very own first aid kit. Which along with medications, should include band-aids, antiseptic wipes, thermometer, bug treatment, burn treatments and so forth. One can never be too careful when it comes to children. Also when you are in a new place, it can take time to navigate the nearest clinic or hospital. So it is best to be prepared. You can find most of these treatments over the counter, and if you can't, you can always contact your health care providers with your concerns and inform them of your future travels.

Make sure you have all your valid documents. Keep your passports in check, and make sure all the documents are up to date and not expired. Also as a precautionary measure have all your children's birth certificate and a copy of all the documents available to you on your email. You don't know when you might need it.

Expect the unexpected. Your flight might get delayed, your hotel booking might not have gone through and to top it all your child has decided to throw the worst tantrum you've ever seen. In the middle of all this mayhem make sure you stay sane. You need to stay balanced and navigate through all this calmly and with ease. Because if you begin to panic, you will start to feel everything is falling apart. And children need to feel everything is okay or will be ok as soon as possible.

No matter what remind yourself the travelling is supposed to be fun. An enjoyment and an experience don't let it stress you out. Unnecessary stress puts a lot of pressure on you, the kids and your holiday.