Whether you're about to welcome a new bundle of joy, or if your little one is moving from a crib to their first proper bed, you'll need to make sure that they have a supportive mattress to sleep on. The last thing you want as a parent is for your child to wake up, cranky and tired because they can't get comfortable. You can be sure that if they're awake, you'll be awake!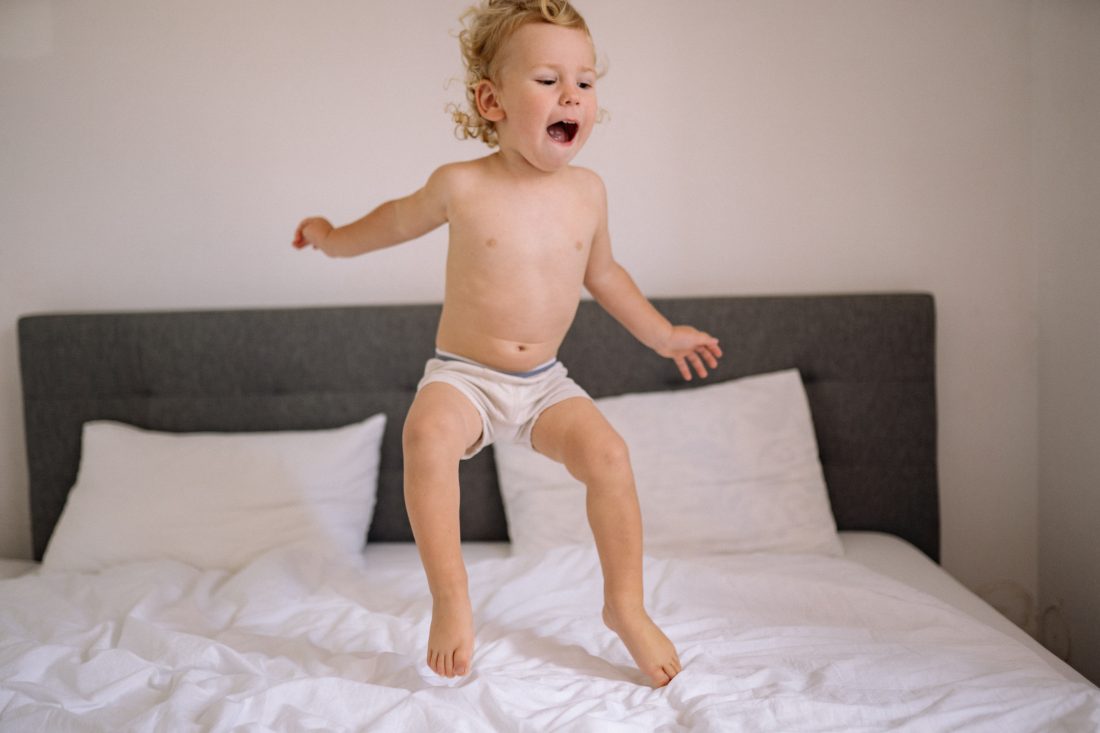 When buying a mattress it's natural that you'll be swayed by price and convenience as our wallets are squeezed more than ever. However, to give your child the best start in life, you will need to make sure that you get the best mattress for your child. One that fits their body, sleep style and ensures that they get the best possible rest. A good night's sleep is vital for a child's development. A bad night's sleep can affect your child's learning, memory and school performance, so getting the right mattress really matters.
There are plenty of mattresses sizes on the market to suit your growing family. Your child doesn't just jump from a crib mattress to a full-blown adult kins size mattress, there are lots to choose from in between!
If you're feeling a bit confused about what size mattress to buy for your child, then read on to find out more.
What is the right size mattress for my child?
The right size mattress depends on the age of your child, how tall they are and whether they are ready to transition to a new bed. If you have a new baby, then you'll need to look for a crib mattress that, as you can probably guess, is small enough to fit in a crib. For toddlers, a small single mattress will suit a toddler bed. For older children, a twin mattress is an ideal pick for their first "proper" bed.
Mattress sizes range from the tiny crib to the massive California King. A look at the different mattress sizes out there, plus the ideal room dimensions, can give you a good idea of what mattress is the right fit for your child. Your child's age, height and the size of the room will dictate the size of mattress you buy, and we'll take a more look at some of the specific sizes for children.
How do I know if my child has outgrown their mattress?
Your kiddo will outgrow their mattress, just like they outgrow their clothes. Once they're too big for their mattress, you'll need to buy a new one to make sure they can still get a comfortable night's sleep.
The first thing to do is check the age guidelines of the mattress. Although each child grows and develops at their own pace this should give you an idea of when it's time to move on to a different mattress.
Second, how well does your child physically fit their mattress? As babies grow into toddlers they'll move around and need more room for their growing bodies as they sleep, so they may need to move out of the crib into a toddler bed with a small single mattress.
Is your toddler already making midnight escapes out of their crib? Then they're probably telling you they're ready for a bigger bed and mattress!
What mattress size do I need for a newborn?
Newborn babies will usually need a crib mattress. Measurements can vary slightly but are around 28 inches by 57 inches. Whatever the size, you must make sure that the mattress fits snugly within the crib, otherwise there is a risk to the baby's safety.
To safely sleep with a crib mattress, the baby should be shorter than three feet. While your little one may look incredibly cute surrounded by soft toys, blankets, and pillows, it's best to keep these out of the bed. The American Academy of Pediatrics says that soft objects like quilts and soft toys can increase the risk of sudden infant death syndrome (SIDS). Instead, hang a fun mobile above the crib.
What mattress size do I need for a toddler?
Sure, it's bittersweet when your baby outgrows their first crib. But once they've left the baby stage, it's time to start considering a toddler bed. For a toddler bed, you'll need a small single mattress, which measures around 30 inches by 75 inches.
A toddler bed is lower to the ground than other beds, and serves as a stepping stone from crib to big-kids bed.
What size mattress do I need for my child's first proper bed?
Once children get older you can start looking at twin mattresses, which measure 38 inches by 75 inches. If you have more than one child sharing a room, then it's good to know that these mattresses will fit bunk beds. After that, the sky (or the size of your bedrooms) is the limit!
A twin XL mattress (measuring 38 inches by 80 inches) is suitable for taller children and teens. A full mattress measures 54 by 75 inches and, while not as big as a double, provides plenty of room for someone who tosses and turns when they sleep.
How do I clean my kid's mattress?
If you have kids, at some point there's going to be a bedwetting incident. Sure, urine stains can cause unpleasant smells, but cleaning it up doesn't have to be a big deal!
After you've blotted any wet urine and taken the sheets to be washed, some cleaners recommend that you sprinkle baking soda onto the stain. After that, spray on a mix of washing powder and water. Once the mattress has been dried, aired and vacuumed, you're good to go.
If any of your family's mattresses are in need of a general clean, then baking soda is a great tool to have in your arsenal.
How do I encourage good sleep habits?
Newborns typically need around 16 hours of sleep per day, and toddlers need about 14 hours each day. By the time they're ready to start elementary school, kids need around 10 or 12 hours of sleep. With that in mind, it's vital to establish good sleeping habits from the start.
You can encourage healthy sleep patterns by establishing a consistent bedtime routine, and sticking to the same bedtime each night. Try not to let them sleep in too late in the morning either. Avoid sugary or caffeinated drinks in the afternoon.
Help your child relax before they go to sleep by reading them a bedtime story. Ensure they feel safe by leaving a night light on. For older kids, try and limit screen time before bed, as the light from cell phones can make it harder to fall asleep.
Encouraging the transition to a new bed
Whether you're moving your child from a crib to a toddler bed or a toddler to their first twin bed, then the transition can be rough on both of you. If you're moving your toddler from their crib to a new bed because a new brother or sister is on the way, it's recommended that you start the transition one or two months before the new baby is due.
To help ease things along, try and encourage your child to take naps in their new bed first, before asking them to spend a whole night in their new bed. Read them stories in their new bed to help ease their anxiety.
To ease your anxiety, you could add a box frame to the bed to prevent them from falling out.
To get them excited about sleeping in their new bed allow them to pick out their own bedsheets. They could even choose the new mattress themselves to give them ownership of their new bed and help them feel more in control of the change.
Summary
The right size mattress will ensure that your child has the best night's sleep possible. There are plenty for you to choose from as your child grows. When your youngster is ready to move on to the next stage, they will likely let you know!