This is a sponsored guest post.
Archetypes refer to universal and natural models of people, personalities, or behaviors that usually play a significant role in influencing your behavior. Carl Jung introduced them and he suggested that archetypes were early forms of inborn human knowledge that are passed to you from your ancestors.
So archetypes stand for universal patterns and images that are collectively unconscious and you inherit them in the same way you inherit instinctive characteristics of behavior. This page explains what you need to know about the four key Jungian archetypes.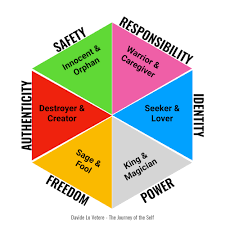 The background of Jung's archetypes
Jung believed that the archetypes are in the collective unconscious. Archetypes are unlearned and work to organize how you experience certain things. Ideally, an archetype is your model image or role and can include father figure, mother, joker, wise old man, and many others.
For example, a mother figure can have caring qualities and is compassionate and dependable. The truth is that people across cultures have similar ideas about the mother figure.
Therefore, Jung thought that each archetype plays a role in your personality, though one specific archetype may dominate the others. The only way an archetype can be realized or expressed usually depends on various factors, such as your cultural influences and personal experiences.
Four key archetypes
While there are 12 archetypes, you may come across the below four key archetypes.
The persona
The persona is how you represent yourself to the world. It stands for all the different social masks that you wear during various situations and groups. It works by shielding your ego from negative images. Jung believed that the persona usually appears in your dreams and may take different forms.
When you were growing, you learned as a child to behave in certain ways to fit with other people's expectations. So a persona developed as a social mask to prevent impulses, primitive urges, and emotions that were not considered as socially right.
The persona archetype allows you to adapt to the world around you and fit in with the society you live in. But it's easy to lose sight of your true self if you too closely identify yourself with this archetype.
The shadow
The shadow is another archetype that has sex and life instincts. It exists as part of your unconscious mind and has repressed ideas, desires, weaknesses, shortcomings, and instincts.
The shadow has all the things that are considered not acceptable to society and your morals and values. It may include greed, envy, hate, prejudice, and aggression.
The anima
The anima refers to a feminine image that is in the male psyche, so the animus is a male image that is in the female psyche. Whether it's the anima or animus, it represents your true self rather than the image you represent to other people.
It serves as the main source of communication that has a collective unconscious. Anima or the animus archetypes can contribute to the development of gender identities and sex roles.
The self
The self archetype is your unified consciousness and unconsciousness. Creating a self happens through a process called individuation. In this process, you can integrate various aspects of your personality.
But the occurrence of consciousness and unconsciousness can cause psychological problems. Therefore, you need to understand these conflicts to accommodate them in conscious awareness.