"Anna Faris is Ally Darling, who after reading a magazine article that leads her to believe she's going to be forever alone, begins a wild search for the best "ex" of her life."
I love Anna Faris, I think she is so funny and adorable!  So I couldn't wait to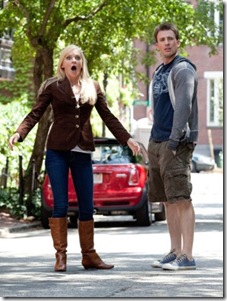 see What's Your Number?  I took one of my friends to see it with me and I was so glad I did.  It is a great chick flick.  We both laughed and laughed.  Actually at one point we were both laughing so hard we couldn't breathe and then I starting crying from laughing so hard.  I'm not even kidding.  I almost thought I was going to have to leave the theater to compose myself :)  Anna Faris and Chris Evans are fabulous together.  It is a funny and sweet story about finding love.  After it was over both my friend and I agreed that our husbands would think the movie is funny as well, so we plan on watching it with them again.
Have a Girls Night Out with your friends and see What's Your Number?! In Theaters Today!
What's Your Number is Rated R.
Visit the What's Your Number? Official Website for additional info.