This is a sponsored guest post.
Wine, pizza and picturesque locations- there is a long list of things we love about Italy. As soon as the word 'Italy' pops up in our heads, we naturally think about beautiful paths along a river, crowded by tourists and locals milling about. The image of Italy would be incomplete without the beautiful Italian women. There is just an underlying wave of coolness in all Italian women which makes them so pretty.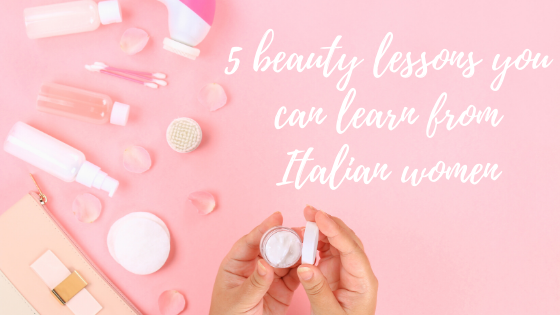 While most Italian women do not spend hours getting ready before going out – which is what most people think given their impeccable outfits and makeup – they do follow some simple tricks that heighten their beauty and provide them a natural look. Italian women usually pick classic, timeless looks that separate them from the crowds who rush to get in with the temporary trends. They use products and beauty tips that give them a natural, evergreen and elegant look.
Here are some beauty lessons that all of us must learn from Italian women:
1. They are confident
While this might seem simple enough or perhaps for some it might not be related to a beauty lesson at all, it is one of the most basic techniques to elevate one's beauty. If you spend some time in Italy, you will realize that Italian women are very confident about themselves. Almost all of them are positive towards their body image and that helps them look as beautiful as they feel. They realize that beauty is not just about what others see in them but about what they see in themselves.
2. No diet routines
One peculiar thing about Italian women is that most of them do not impose any dietary restrictions upon themselves. They eat everything – pizzas, pasta, cheese, you name it. They keep in shape by indulging in a good amount of physical activities like walking to marketplaces and workplaces and taking the stairs. These simple physical activities allow them to keep in shape while eating anything they want to.
3. They love the sun
If there is something that the Italians love besides their cuisine is spending time outdoors. On weekends and holidays, you will find that most people are spending time on beaches or other outdoor spaces. This exposes them to sunshine which in turn helps them get their beautiful tanned skin.
A good thing is, that they are well aware of how long they should expose themselves to the sun. Whenever you go out to soak that vitamin-D, make sure that you have applied sufficient amounts of sunscreen and do not overexpose yourself to the sun's rays.
4. They try to remain stress-free
Italian women seem to realize that beauty is not simply about how you look but also about how you feel. When you are under constant stress, you automatically look tired and dull. Being stress-free helps you feel active and provides a certain glowing charm to your skin.
Italian women often set up a routine that provides them with sufficient time to relax and unwind throughout the day. This is the secret behind their wrinkle-free faces and why their skin glows irrespective of the age
5. They use natural products in their beauty regime.
For Italian women, taking care of their skin is very important. However, they don't simply use cosmetics to do the task. They try to use as many natural ingredients as possible.
For example, they use coffee grounds mixed with coconut oil as an exfoliator and use it for tightening their skins. They also love using olive oil in their regime. Olive oil is an excellent anti-aging component and also provides a shiny look to their hair and eyebrows. Other than these, they use several other natural ingredients to maintain their natural look.
These are just some of the beauty techniques that you can learn from the Italian women. You will find more at the popular Italian beauty portal. Prepare yourself to get that classic, timeless look that you've always desired!