This is a sponsored guest post.
Having the perfect mattress can make a big difference when it comes to getting a great night's sleep. And when you have kids that depend on you day after day, sleep becomes even more important. And the type of mattress you buy is even more important.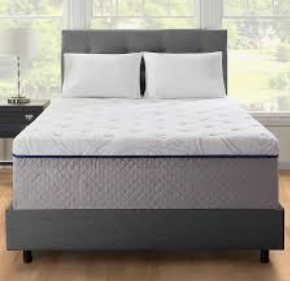 The good news is that there are a lot of great mattress choices and mattress stores for you to choose from, online and locally. Price is probably on your mind, but your investment in a new bed can last for quite a few years. There's also a health benefit behind great sleep night after night.

According to the Division of Sleep Medicine at Harvard Medical School, "Scientists have gone to great lengths to fully understand sleep's benefits. In studies of humans and other animals, they have discovered that sleep plays a critical role in immune function, metabolism, memory, learning, and other vital functions."

Let's take a closer look at five must do mattress buying tips you absolutely can't sleep without.
1. First, know the right size of mattress you need
Knowing your bed is no longer doing its job is an important first step in buying a new mattress. Maybe your bed is just not delivering the support and proper setup for the best sleep. Knowing the right size of mattress first can help you pick the perfect bed at the best price.

For example, maybe you want that California King bed, but after doing some measurements you realize that a giant bed simply won't fit in your bedroom. Or maybe you want a King mattress, but upgrading your queen bed frame to a king is just not in the budget. There are a lot of little idiosyncrasies to consider, so first size up the situation.
2. Know the materials in coming with your mattress
If you are more sensitive to materials than others, you need to definitely pay attention to mattress materials. In fact, many people are allergic to synthetic mattresses, causing rashes and breathing issues. This makes it very important to know what your mattress is made of. You can do your due diligence online and also ask the sales reps in-store any questions. But it's always best to get the manufacturer's list of materials to be sure.
3. Get the support you need for great sleep at bedtime
When it comes to bedtime, you need to ensure the mattress you buy is giving you the right support. Most mattresses have the right type of support for most sleeping types, like side or stomach sleepers, for instance. Innerspring and memory foam mattresses are good overall choices. You can also opt for an innerspring coil mattress that has independent springs working together for optimal support.

Memory foam is another great support-minded choice, since memory foam contours to the shape of your body while sleeping. Hypoallergenic memory foam can ensure you don't have allergies to your bed as well. Memory foam can be a bit more expensive, but may be worthwhile long term.
4. Bed comfort is absolutely important
Comfort levels exist for mattresses. You can choose firm, plush, ultra-plush, etc. to stay comfortable while having a great night's sleep. How do you know what type of comfort level you need to buy? Look at your sleeping style. For example, back and side sleepers prefer firm mattresses, while stomach sleepers prefer a medium-firm bed for optimal sleep. Know your sleeping habits and you can easily identify the type of support that you'll love every night.
5. Think about what's under the mattress too
The bed frame is also important to consider when buying a new mattress. For instance, if you go with a memory foam bed, you will need a slatted bed frame or a solid surface for it to rest on. Memory foam is also a great way to avoid spending more on a box spring.

If a box spring is in your future, you want to make sure it fits with your new mattress, otherwise you'll have cracks between the mattress and actual bed frame, or the sides of your new bed will dip and sag. Be sure to always consider bed frame when buying a new mattress.
In conclusion . . .
The above bed buying tips are just the tip of the iceberg. There are plenty of more tips you need to consider, but the above are among the most important. They also serve as a great jumping off point for getting a mattress you will sleep soundly on, whether during bedtime, or those lazy weekend naps. Do you have any bed buying tips? We want to hear from you.