"Dippidee, a place of sweet surprises. We offer the best in homemade desserts. Our recipes have been passed down from generation to generation. Each dessert is made with only the finest ingredients and of course a bit of Dippidee love. We specialize in made to order sugar cookies, cupcakes, specialty cakes and wedding cakes. Come into the store anytime to enjoy our regular items such as the
Ultimate Chocolate Chip Cookie, Chocolate Cream Cake, and Creamy Rice Pudding just to name a few. We hope to see you soon!"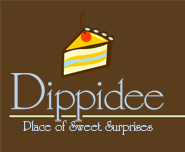 I have found a super adorable bakery in American Fork Utah.  It's called Dippidee and I fell in love from the minute I walked through the door.  They have a great display with all their yummy treats.  It was really hard to decide what to try since they had so many things that looked so yummy.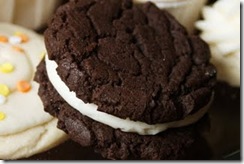 Ultimately I chose a few cupcakes and a sugar cookie and homemade Oreo cookie.  Wow were they delicious!  My hubby and sister had the pleasure of taste testing along with me.  Both the cookies were really good.  The cupcakes were also very good, we all thought they had the best frosting we had ever tried. My favorite was their cream cheese frosting, I am salivating just thinking about it.  It is so heavenly!  And some of the cupcakes have filling inside, oh wow was it good!  If you are looking for yummy cupcakes for a party or just because you want one, Dippidee is the place!
They will even make amazing custom cakes and cupcakes for parties.  You can just tell them your vision and they will create it!
Dippidee is located at 476 North 900 West, Ste D in American Fork, Utah. Check out www.dippidee.com for additional info.  You can also check out the Dippidee blog for product updates and giveaways.
Dippidee gets Bragging Rights!