It can be so hard to find gifts for my hubby.  So when Bokos offered to send me a pair of their sandals to review I knew their Men's Sandals would be perfect as a gift for my hubby.
"We created Bokos for people like us, people like you. People with too much to do and not enough time.
Whether you're a camper, cyclist, hiker, surfer, shopper, or gardener, Bokos are made to keep up. The one-piece design gives superior durability and versatility and makes Bokos easy to clean, anti-odor and anti-slip.
From your gym bag to your camping gear, your front closet to your back porch, we're confident that wherever your Bokos end up, they will soon become
your new favorite sandals."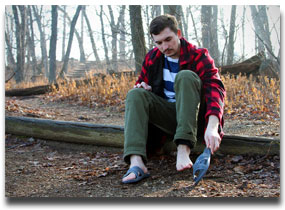 It's winter here so he won't be wearing them outside right now.  But he goes to the gym every morning on his way to work and showers there.  These sandals have been perfect for him to wear while he is at the gym showering and getting ready for the day. He likes that they have a great grip and he doesn't have to worry about slipping. He is also impressed by the quality and durability of the Sandals.  He can tell they will last through a lot of wear.
He has been enjoying his early Christmas gift and has been using them at the gym everyday.  He really likes that they are very comfortable and they look great on him.  Once the weather warms up he will be able to wear them regularly and he likes that they look great with a pair of shorts.
Another great feature is that they are so easy to clean since there is no fabric.
Bokos Sandals are available for both men and women.  Check out Briann's review of Bokos Women's Sandals.
Bokos Sandals are the perfect gift this Christmas!
Visit www.BokosUSA.com to see them all.
Bokos Men's Sandals get Bragging Rights!