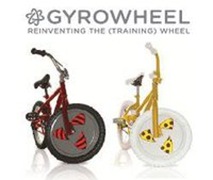 If you are teaching your child how to ride a bike then look no further than BalanceBikeTrainer.com!  They have a wonderful selection of products for bike riding and helping your child to learn to ride a bike sooner and more easily.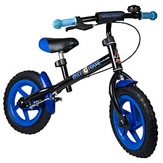 A great way to start out teaching your child is with a balance bike, and Balance Bike Trainer has a great selection.  A balance bike does not have wheels and helps your child master balancing which will then help them to be able to ride a pedal bike on their own.
Another great product for helping your child learn to ride their bike is the Gyrowheel.
"Gyrowheel is a revolutionary front wheel for children's bikes that eliminates the need for training wheels. Powered-on it provides high stability at low speed and makes learning to ride safer, easier, faster and  a whole lot more fun! This white 12 inch tire model is designed to replace the front wheel of a standard 12 inch kids' bike. Kids and parents rate Gyrowheel as "cool.""-BalanceBikeTrainer.com
Check out this video of the Gyrowheel in action:
After seeing that video I was extremely excited to review the Gyrowheel.  What a cool product!  It arrived and my first impression was whoa that is a heavy wheel, LOL.  We inflated the tire and found it very convenient that it came with an extender (since the tire is unique in it's design the valve is in a different place than a standard wheel). We also charged the wheel (it is recommended that you charge it for 16 hours) and then once it was charged we put it on Bug's bike.  It was really easy to put on his bike and it comes with extra hardware in case you need it.
  Since bug is just learning to ride (and can't ride on his own yet) we set the stability to it's highest setting.  It has 3 settings, high medium, low, so as your
child improves you can lower the stability so the Gyrowheel is helping less and less as you lower it.  I was so impressed by how well 3 and a half year old Bug did riding his bike with the Gyrowheel. Because it helps him to balance he is almost able to ride by himself.  Really the biggest set back we have been having has to do with the pedaling of the bike.  But we have been practicing and he keeps getting closer and closer.  Because of the Gyrowheel I know Bug will be riding his bike by himself within the next month or so.  I highly recommend the Gyrowheel for kids that are learning to ride a bike!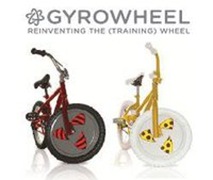 Things that are Brag Worthy:
A safer and better solution than traditional training wheels
Replaces the conventional front wheel of a bike and adds stability at low  speed
3 stability settings: Reduce stability level as skills improve
Teaches correct riding technique
Looks cool – kids love it
No special assembly, installation or tools required
Powered by internal rechargeable batteries and comes with a charger
Available in two different color schemes – black tire and white tire models
For ages 3 and up
You can purchase the Gyrowheel at www.balancebiketrainer.com!
And they always have FREE SHIPPING in the Continental United States!
The Gyrowheel from Balance Bike Trainer gets Bragging Rights!
One lucky Bragging Mommy Reader will win a 12″ Black Gyrowheel from Balance Bike Trainer! A $99 Value!
How to enter: Leave comments below with your qualifying entries. Leave a Separate comment for each entry telling us which you qualify for.
MANDATORY 1st entry– Like Balance Bike Trainer on Facebook.
1st Mandatory Entry must be completed before you can qualify for additional entries. All extra entries who don't do the mandatory entry will be deleted.
3 entries– Visit Balance Bike Trainer and tell us another item besides the Gyrowheel that you would like for your kids.
3 entries– Follow marketassociate on Twitter.
3 entries– Sign up for the Balance Bike Trainer Newlsetter.
2 entries– Grab The Bragging Mommy button and put it on your blog. Leave a link.
5 entries– Subscribe to The Bragging Mommy emails.
1 entry for each– Follow The Bragging Mommy via Google Friend Connect, Facebook, Twitter, subscribe in reader.
10 entries– Blog about this giveaway linking to this post and balancebiketrainer.com. Leave a link to your post.
1 entry per day– Tweet this giveaway, be sure to include a link to this post & @braggingmommy.
GIVEAWAY IS NOW CLOSED
You can enter this giveaway until July 1st @10:00 am MST. The winner will then be chosen at random, verified and contacted via email. The winner will have 48 hours to email us back and claim the prize, if prize is not claimed within 48 hours a new winner will be chosen. By entering this giveaway you agree to The Bragging Mommy Full Disclosure. You must be over the age of 18 and live in the Contiguous US to enter. 
*I received a Gyrowheel from Balance Bike Trainer for my review.