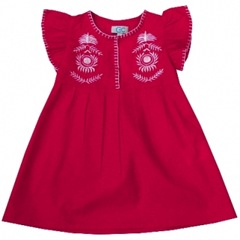 If you don't know by now, I LOVE to shop! I especially love shopping for my daughter and my soon to be baby! It seems like there are so many cute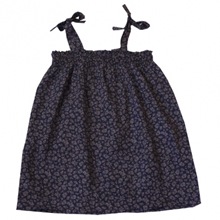 dresses and outfits out there for girls right now. I absolutely love the French designer brands for children that I found on Clara de Paris.com.
They have such wonderfully designed clothing for boys and girls. I love how practical and beautiful the clothing is. I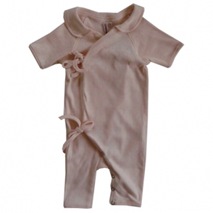 decided to pick out a couple of things for the baby since she will mostly be wearing Leah's hand me downs. I was so excited to receive the cute dress and sleeper, they are gorgeous!
I couldn't believe how soft and silky the little sundress was and the sleeper is so cute!
I have a lot of friends having babies right now or who are pregnant. Clara de Paris has some really great Baby Shower gift ideas! Some of my favorites were the cute bib and outfit sets or the cute toiletry bags!
  This is the perfect website to find all of your baby shower needs!
"Claradeparis.com brings you over a dozen emerging and acclaimed French trend-setting designer brands of children's clothing, accessories and decoration, most available for the first time in North America.
With new arrivals of exceptional products coming in regularly, do not miss the opportunity to be the first to don the latest and exclusive fashions from Paris!
Come back to visit us every month in order to discover trend-setting new fashion and designers.
Our concept originated following 3 wonderful years in Paris, France, a management education and the desire to dress one's child distinctly and with refinement.
Clara de Paris is proud to be the first Canadian boutique selected by Babyccinokids' in their top 100 "Best Online Boutiques"!" (Clara de Paris website)
Things that are Bragworthy:
Fun Facebook Page to keep up on all the latest
Don't Facebook? Try out their twitter page @claradeparis or sign up for their wonderful newsletter!
Wonderful Baby Shower gifts
Beautifully designed clothing for many different ages
All of these wonderful items can be purchased at www.claradeparis.com!
Clara de Paris gets Bragging Rights!