"Work. Kids. Bills. Comedy. It's how the middle half lives. The Heck family returns for Season Two, bringing with them 24 episodes of offbeat fun with one foot in reality and the other on a greasy wrapper from Burgerworld. Patricia Heaton and Neil Flynn star as Frankie and Mike Heck, frazzled parents trying to stretch their patience and paychecks around three brilliantly true-to-life kids: Axl, whose latest dream girl has tattoos, body piercings and pink hair; Sue, who's thrilled to come in eighth (out of eight) in Square Dancing with the Stars; and Brick, the only kid who has his birthday party at the public library. "Watch it, people. You will laugh" (Robert Lloyd, Los Angeles Times)."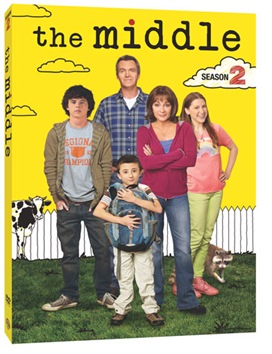 "In one episode of The Middle, Brick shares Sue's room where they accidently knock a hole in her wall, they try to fix it but only make it worse. They attempt to cover it up by putting a poster over it but it doesn't work."
I had many moments like this when I was a kid.  Don't we all?  We make a mistake, break something, ruin something and we know we will be in trouble.  I was never very clever at covering it up so I just always came clean and told my parents.
Have you ever been in a situation similar to Brick and Sue's? See how the Hecks brilliantly true-to-life kids cover up their accident on The Second Season of The Middle on DVD, currently available for pre-order here: http://bit.ly/qliHr2 and hitting shelves on 9/27/1!
I have been hired by Warner Bros. WBWord division to promote The Middle Season Two on DVD
In case you can't see this video below, click here to view it.