I received this product for my review. All opinions are my own.
As a mom of 3 kids, I was always having to hide my jewelry and nice things from my kids, especially my toddlers. So I was thrilled when Nicetree introduced me to their Lockable Jewelry Cabinet with Full-Length Mirror. This is exactly what I have always been wishing for!
It arrived quickly and I couldn't wait to assemble it. It was very simple to put together and I was able to do it all on my own. You just have to put a few screws in.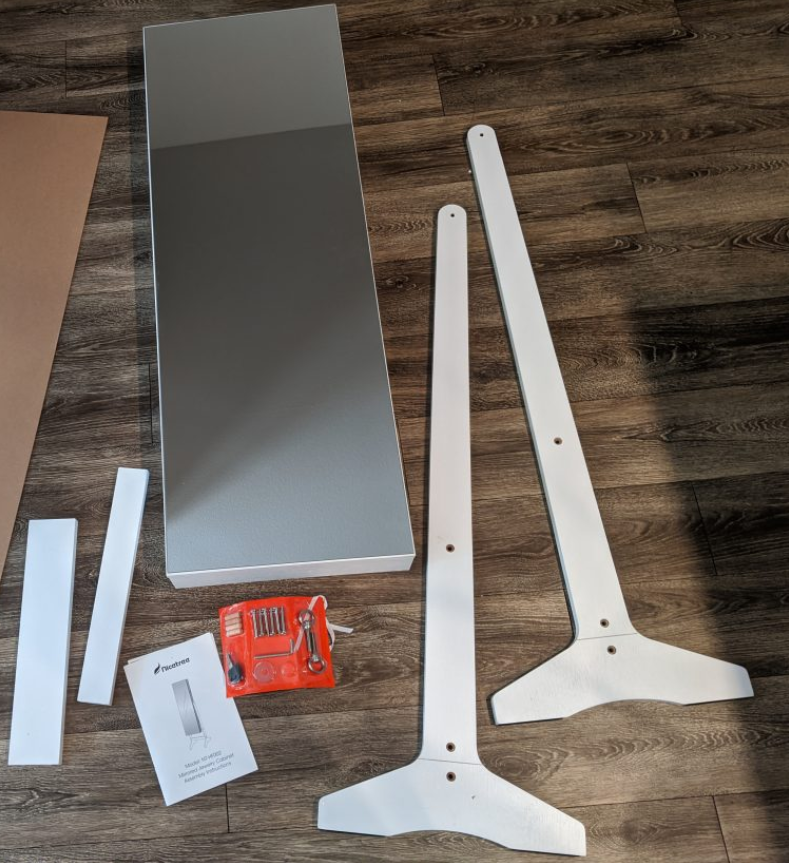 Once assembled I couldn't wait to set up all my pretty things inside. I love all the compartments and I've never had a ring organizer so I love that it has one at the top, and it can hold 91 rings!
The lock on the side is my absolute favorite part! Being able to lock it and know that my little ones can't get in is priceless!
I'm a happy mom knowing that my favorite jewelry is safe and I also put all of our nail polish inside. I like being able to see all of my colors. Before, I had to keep it all in a box up high and I love having them in more of a display format.
The full length mirror is a huge bonus and I love that I can see my whole outfit head to toe before i head out.
Things that are Brag Worthy:
💄FULL SCREEN MIRROR & DECORATION– Nicetree Jewelry Cabinet is designed with a full-length mirror measuring 42.5″H x 14.57″W. You can use it to check yourself, your whole outfit before leaving the house. The stylish outlook makes it a perfect decoration which can help enhance the style of your room.
👗FLEXIBLE & ADJUSTABLE– Come with stand, this jewelry armoire is easier to move around the house compared to a leaning one. There are 3 horizontal holes on each side of the stand, you can adjust the most suitable bevel angle according to your height to get a better view.
👒LARGE STORAGE CAPACITY – With a large storage capacity, it helps you arrange all your jewelry and cosmetics in one space. This Standing Jewelry Cabinet contains 24 necklace hooks, 78 ring grooves, 108 stud earring holes, 36 earring slots, 4 shelves, 2 bracelet rod, 3 makeup tool cups and 2 bottom drawers.
💋QUALITY & SECURITY – Nicetree Jewelry Cabinet is made of fiber board qualified P2 which have a high quality. It is lacquer free, totally good for environment and health. It has a high quality lock and key, a children proof armoire, which can keep jewelry out of kids' reach.
👑EASY TO ASSEMBLEE – The frame of jewelry cabinet is pre-assembled, you only need to assemble the legs, all the tools are prepared.
Nicetree is committed to 100% customer satisfaction. if you have any problems, they encourage you to contact them.
I'm a very happy mom! I am really enjoying this cabinet/mirror and I highly recommend it! You can purchase it for yourself on Amazon.
Nicetree Jewelry Cabinet with Full-Length Mirror gets Bragging Rights!