"You see, we know how much moms like you give to your families every day without expecting a thing in return. It's just what moms do. We know, because we're moms (and dads), too. So like you, we shuttle the kids to lessons. We go to soccer games in all sorts of weather. A few of us even play paint ball! And we're always on the lookout for great family values.
 
We thought it'd be nice to do something meaningful for the moms, who do so much for everyone else. So we created little birdie to give you great daily deals and insider tips on all sorts of family-friendly activities, shops, restaurants and events — right in your backyard.

The way we see it, together-time is priceless, but the cost of family activities really adds up! That's where we swoop in:
Every day, we'll let you in on little birdie deals around your town. You'll save up to 90% on things like children's museums, pottery classes, ballet lessons, gymnastics, camp, nature centers, skating rinks, restaurants, shops, theatres and so much more. We'll uncover hidden gems in your area that you may not know about, and we'll offer even greater savings when you take advantage with your friends. All you have to do is sign up and check your emails."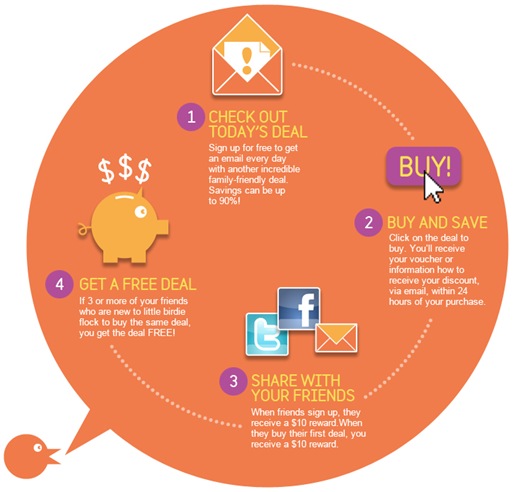 Today's Daily Deal:

1 year membership to ThreeJars (allowance tool website) for just $15!  That is a 50% discount!
"ThreeJars.com is an online system of allowance done right. Kids learn to manage their "money" through saving, spending, and charitable giving jars with guidance from Mom and Dad. With ThreeJars, you can relax knowing that all your kids' allowance is in one spot, with automated payment, tracking, and access through ThreeJars safe, secure, IOU system. Sign-up is quick and easy, and you can assign chores, projects, and more with just a few clicks."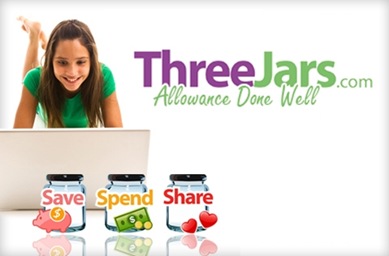 Head over to littlebirdie.com and take advantage of this great deal!  Also while your there sign up to receive their daily deal emails!
*This is a sponsored post.