This is a sponsored guest post.
Pregnancy is one of the most amazing things a woman can go through. It is also filled with challenges, especially so for women with diabetes.
Is it possible to have diabetes and still have a healthy pregnancy? The truth is that having a healthy pregnancy while diabetic may not be as difficult as you might think. There are some challenges, of course, but these seven tips to help you have a healthy pregnancy while diabetic can help you overcome them.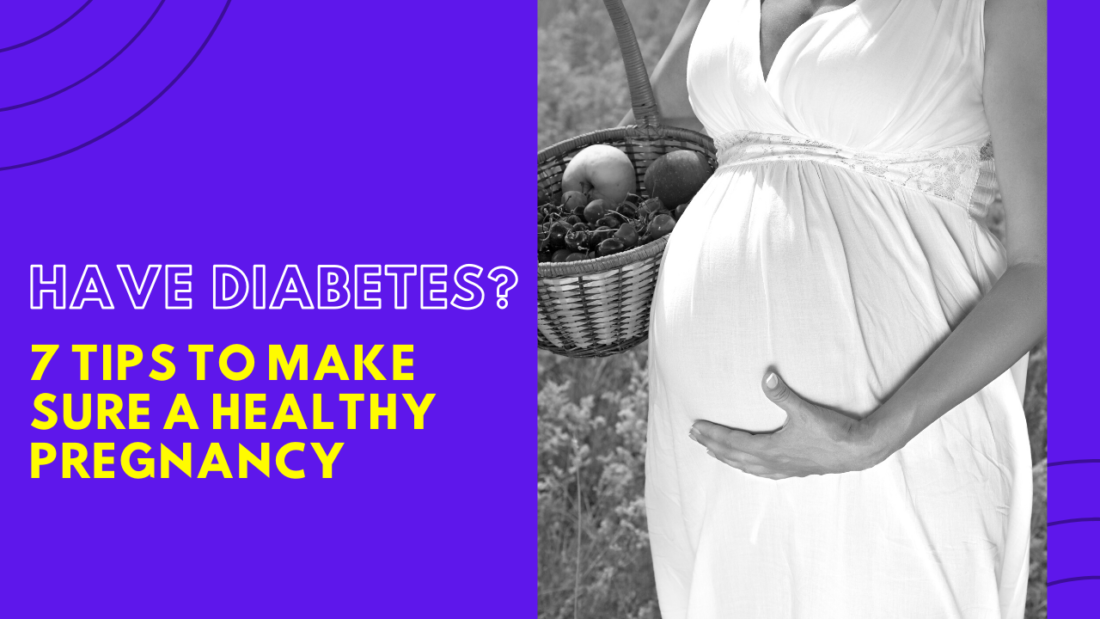 Keep Blood Sugar Levels Under Control
If you are considering having a child, then you should start by kicking some bad habits, such as smoking and drinking, lose weight if you are overweight, and take some prenatal vitamins. If you have diabetes, then there is one more preparation step you can take, which would be to get blood sugar under control and keep it there.
You could even have trouble getting pregnant in the first place if your blood sugar levels are too high or low. Your body can tell that it isn't a hospitable place to raise a baby, making it more difficult to become pregnant.
Women with type 2 diabetes are a risk for developing polycystic ovary syndrome (PCOS), which makes it more difficult for women to get pregnant. Medications designed to stimulate ovulation can help. Ask your doctor about Clomid and Serophene.
Put Together a Diabetes Team
While every pregnant woman needs regular visits to an obstetrician, pregnant women need up to three times as many due to the potential complications. Connect with a high-risk obstetrician to track your pregnancy. Talk to your endocrinologist to see if they would work with your OG-GYN. It would help if you dealt with doctors who understand diabetes and the risks it presents to pregnancy.
Also, take a good look at your insurance policy. The extra checks, ultrasounds, and blood sugar tests can add up. Make sure your insurance covers these costs as much as possible.
Consider Dropping Oral Medications
Many doctors recommend pregnant women with type 2 diabetes should discontinue their oral medication. The reason for dropping oral medications is because there isn't enough research into whether or not these pills, including metformin, are safe to take when pregnant.
Oral medications are more convenient for diabetics, but insulin could be your best choice to control blood sugar before, during, and after pregnancy for a healthy delivery. Those with type 1 diabetes have to take insulin anyway, so talk to your doctor to see if your dose is high enough to support your pregnancy.
Take Control of Morning Sickness
One problem with taking insulin is that you need to take it when you have food in your system that it can act upon. This presents an issue when pregnancy means you can't keep anything down, especially in the morning.
One recommendation for pregnant women is that they have a cracker as soon as they wake up to control morning sickness. Keep some saltines by your bed and take a few bites of one before getting out of bed. Some prescription drugs can help to manage extreme nausea too. Talk to your doctor about treatments like Zofran if you feel you need extra help.
Maintain Healthy Blood Sugar Levels
The challenge of having to maintain healthy blood sugar levels is something every diabetic goes through. It should be done at all times, and that includes during pregnancy. Pregnant women should become more familiar with their blood glucose monitors.
Some women test up to 15 times a day, once every hour, when pregnant. It would be best if you didn't wait until you feel a dip or spike to test yourself. It would be best if you had an idea of where your blood sugar is at all times, so you know where you are and what you need to do.
Have a Stash of Quick-Carbs
You should prepare to have to deal with hypoglycemia, which happens when blood sugar levels dip too low. Hypoglycemia can be caused by not eating enough carbs and by misusing insulin. You should keep glucose tablets – designed to prevent hypoglycemia – on hand, so you have them if you need them.
If you don't like the taste of glucose pills, then you can keep some 100% juice boxes to hand. These juice boxes offer a quick injection of carbs, not to mention it's always good to get more fruit for both you and the baby.
Get Online Support
There is an endless amount of resources for pregnant women with diabetes. You can get excellent pregnancy advice from your friends and family, but only other diabetic women will know exactly what you are going through. You don't need to do it alone. Find pregnancy support groups on social media or find other online groups who can help. . You can find even more useful information on Motherbabies and their great articles on pregnancy health.