This is a sponsored guest post.
Gone are those days when you could just travel with a few clothes in your backpack. Things will drastically change once you have a baby.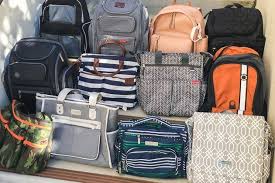 Moving with a toddler requires a number of things that will make the travel easier for you, as well as for your kid. Starting from diapers to baby food and toys, there are so many things you need to ensure your kid's comfort.

Your regular bag may not hold all these things, meaning that you need to find the right bag that can. Apart from traditional diaper bags, there are some other options you can try when heading out with a baby.
Types of Bags You Need When Carrying a Baby
You don't want to mess up with things every time you go out, especially if you have twins. Click here to learn about some of the double strollers to make your life easier while traveling with more than one kid. Also, you can go through the following list of bags you can carry as a parent.
Diaper Bag
This is the first thing you should consider buying when having a child. The diaper bag is extremely useful to carry the baby's essentials.

If you don't want to buy anything with loud, colorful designs, purchase one that goes with your style. Make sure you can carry diapers, spare clothes, and feeding bottles in it.

A diaper bag should also come with a diaper changing mat. Do check for these things before purchasing.
Backpack
If you don't want to carry a diaper bag everywhere you go, a backpack can be the best option for you. Suitable for both mom and dad, you can carry all off the necessary things for you and your kid without hurting your back.

Backpacks come in many sizes and designs, whatever your child's interest, whether its animals, cartoons, or dinosaur backpacks, there are plenty to choose from. However, make sure they are spacious enough to hold clothes, food, drinks, and even diapers. These types of bags are suitable if you're visiting shopping malls or going on a short trip.
Tote Bag
Just because you have a baby doesn't mean you need to carry a heavy bag all the time. Why not switch to something stylish and useful at the same time?

Opt for a nice tote bag when going to a party with kids or just planning a mommy-baby outing. It's like a traditional lady's bag in which you can carry your kid's essentials as well as your makeup kit.
Messenger Bag
This is one of the best options if you want a stylish bag that is safe to carry. It's a briefcase-like bag with a long strap that goes across your body.

Like the backpack, a messenger bag is quite spacious. The best part is the long strap lets you carry the bag in front so you can avoid theft while busy with your baby.

This is a unisex bag, meaning that both mom and dad can carry it.
Baby Backpack
As your little one is growing up, they will start following you. Besides, the number of products you need to carry will decrease as well. Why don't you consider letting them carry their own little backpack?

There are lots of cute little backpacks available in the market to buy one for your kid. These bags have little space only for clothes, snacks, and water bottles.

Does your kid love animals? Or is your little princess a huge Disney fan? Get them one of those animal-faced bags or one with cartoon characters. Make sure you don't overload it with stuff. You don't want your child's bag too be too heavy.
Plush Backpack
Do your kids always insist on carrying a handbag wherever they go? You may be a bit concerned about the load they will be able to carry. In that case, let them carry these stylish little plush backpacks.

Remember, these bags are for style purposes only. They won't be able to store more than a tiny snack, meaning that you don't need to worry about the weight of the bag and your kids are happy.
Things You Should Look for In a Bag When Heading Out With a Baby
While a heavy, colorful diaper bag seems outdated, it can actually carry a lot of things in an organized way. However, when you're switching to something more comfortable and stylish, make sure they have the following features.
Pockets
Pockets are the keys to organizing your toddler's essentials. Make sure the bag you're carrying has enough pockets to keep things in an organized manner.

You can use the outer pocket to carry a water bottle, sippy cups, coffee thermos, etc. Larger pockets are great to hold diapers, clothes, foods, and formulas.

Try to purchase a bag that comes with an insulated pouch or thermal bag. It will keep the food and milk hot or cold, whichever you want. You can also use small pockets to keep pacifiers, keys, and more.
Materials
Depending on the climate where you live, your bag might get damaged. That's why you need to go for something that is durable and easy to clean.

While nylon and plastic bags are easy to wash, they are not durable. Leather bags tend to go for a longer period, but you need to be very careful while cleaning them.
Weight
With so many things in one bag, it's surely going to be quite heavy for you. Buying a lightweight bag can ensure your comfort if you're out for a long time.

You don't want your bag to rest uncomfortably on your shoulder once it is fully-loaded. Opt for a bag with wide straps made out of smooth materials. It would be best if the straps have a little padding.
Space for Personal Items
Carrying a bag for kid's diapers and another for your personal things will be troublesome and difficult to manage. That's why you need something that can fulfill both purposes.

Whether you're getting a diaper bag or tote bag, make sure they have enough space to store everything from the diapers to food to your personal items.
Final Thoughts
As parents, both you and your spouse need to be careful about your child's needs, especially when you're heading out. They can be hungry or irritated, and diapers need to be changed at any time.

While roaming around with toddlers can be challenging, it can also be enjoyable and fun if you have everything on hand. Choosing one from this list of stylish yet useful bags can make your life a lot easier as a parent.