This is a sponsored guest post.
The world of radiators is a peculiar place. For something with such a simple function, there is a staggering amount of choice out there. I recently took a deep dive when looking for a radiator into the realm of designer radiators, and let me tell you, it is more interesting than it has any right to be.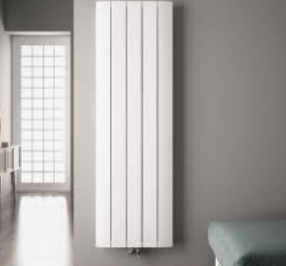 Who'd have thought than comparing finishes, shapes, materials, and design features were just as exhaustive in the radiator world as it is buying a new couch or computer. Truth be told, it can be slightly overwhelming if you don't know what to look for, or how you can make sure you don't get ripped off when buying a designer radiator.
Get the right finish
The finish is everything when it comes to a good looking radiator. You'd hate to pick a radiator colour because you think it looks cool, only to get it up on the wall and realise it sticks out like a sore thumb.
With there being at least a dozen different popular colours/finish you can choose from when picking a designer radiator, how do you know which one will work for you? Ask yourself these questions when you have a specific colour in mind:
Will the finish match with my fittings?
Will the finish blend in with the wall?
Will the finish be easy to keep clean?
If you answered yes to all three, you are good to go with the finish you like. If you gave a little "NO" to any, you might not have the ideal finish you hoped for. As long as you think it won't look silly, you should be ok.
Get the right shape
When you think about designer radiators, it's all too easy to think of "designer" as meaning something with a crazy shape or rails going all directions. That couldn't be further from the truth. The majority of designer products would be conventional-looking designer horizontal radiators (look at some examples here) as most designer brands opt for traditional or minimally style radiators.
You obviously can find some crazy designer options out there, and if you have the space to pull it off, then go for it, but sometimes simplicity and quality is key. Speaking of quality…
Get the right material
It is often the case that designer radiators, even when they look like normal radiators, will be a little more expensive because of the material used. Even though the "premium" nature of designer products is sometimes a little iffy, if you find that the designer radiator you're looking to buy is made from aluminium, you're about to get a radiator which will work fantastically.
Aluminium is one of the best materials for conducting and retaining heat. While it is more expensive to shape and use when making radiators, it will indeed do a much better job of keeping a space warm than a basic radiator made from steel.
Get your measurements right
Like buying a fancy case for your phone and it not fitting correctly, you'd hate to buy a lovely new designer radiator and realise it won't fit in place. When looking at your options, some of the measurements to jot down and compare would include:
Wall length and height you have available
How much projection from the wall you can have
How far apart your pipes are from each other (so a radiator will fit)
You can't be a centimetre off with a new radiator, do always double-check the measurements meet up or else you'll have a designer radiator you can't do anything with.
Are you looking for more savvy radiator tips?
Thanks for reading this article. If it's gotten you in the mood to see what else you can do with your radiators, read this article on making your heating system more efficient. And remember that you can always keep your home in tip-top shape by checking out the latest DIY articles from the blog too.