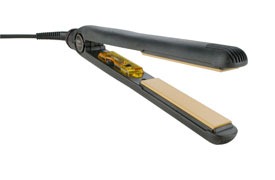 "From the moment they were first introduced into the market, InfraShine flat irons established a new standard for performance and quality. Designed to meet the demands of professional stylists, these precision tools are built to last. They heat up instantly, generating negative ions that produce even, uniform, and controlled heat along the surface of the iron so you can straighten hair in a single pass and then curl, flip, or press it into virtually any shape or style. They are available in three sizes for maximum versatility."
I have thick hair. Thick, wavy, frizzy, hair. Most days its just thrown up in a ponytail- quick, easy… less work. Straightening my hair is SO much work! Well, at least it was until I was sent the InfraShine Flat Iron. From the bottom of my heart, this is the best flat iron I have ever used. Period. I absolutely love it. I bet it cuts my total hair time by 25% or more. Very key, since I have two little rugrats who would are always in need of something as soon as I start doing my hair. I love that yo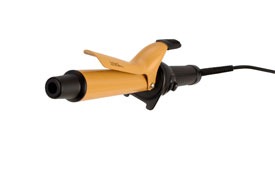 u can use it as a curling iron as well- it works great to flip the ends for a little more texture. Their irons are available in 3 sizes, so theres sure to be one that fits your needs. I definitely want to try out their line of Spring Irons too- these look great for getting that perfect curly look. 
Things that are Brag Worthy:
Will definitely cut down your flat ironing time

Designed for professional stylists

Built to last

Heat up instantly

You can use it to curl or flip your hair
Be sure to follow InfraShine on Facebook!
Look for InfraShine at professional distributi

on stores, and check back- they're adding their "Where To Buy" page soon! In the meantime contact us at 877-973-4259 to find out how to purchase InfraShine products.
InfraShine Flat Iron Review gets Bragging Rights!
*I received a InfraShine Flat Iron Review for the purpose of this review