This is a sponsored guest post.
They say that you only miss the water when the well is running low, and it's never been truer than when you talk about maternity leave. Most employers offer their employees between a month to three for maternity/paternity leave but it's never truly appreciated until the last week or two. Its almost like a vacation; its always the most interesting towards the end and you can't bear the thought of heading back to your office desk for another year of hard work. Here are a few tips to help you make the most out of your maternity leave so that you are not tempted to request an extension out of sheer laziness: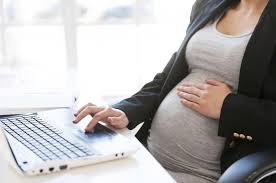 LEAVE THE OFFICE. COMPLETELY.

When my sister had her first newborn, she was given three months off. She spent the first eight weeks replying emails, editing documents and making calls at her boss's request. When she realised that she only had a month to go she completely freaked out and we all knew she regretted it. She only had a month to bond with her baby, get over the overwhelming discovery that she was now a mother, find a nanny etc. My mother and sisters all chipped in to help where we could but we didn't have to make her vow that she wouldn't as much as touch a phone on her next leave.

GET ALL THE HELP YOU CAN

My sister had a lot of help; me, my mother, my other three sisters, her best friend, her husband and even the old couple that lived next door. Given her schedule, however, she still didn't have enough time to rest. In the future she will get her maternity clothes and nappy bags online. Imagine how much she could have done if she still took the help but eight weeks before the panic.
After delivery, you need time to properly meet your baby and rest. Get help with everything else; if you don't have a house help its time to hire one. You can also find a nanny to take care of the baby as you rest and recover.
While most mothers prefer getting help with the baby from relatives, remember you will still need to get a nanny when the leave ends. The earlier the better.

GET OUT AND EXPLORE

Ok, not like travel to exotic lands but a walk in the park would do just fine. Put the baby on a stroller, get all your newborn clothing online and make your way around a few blocks, not too far from home. Trust me, you will miss those days. Once you get back to your 8-5 you will only catch a glimpse of that park as you drive home, tired after a long day of work. Chat a little with your neighbour and even meet up with other moms for a nice stroll around town.

In short, enjoy every minute of your maternity leave. Rest, sleep, eat, exercise, cook, clean and even spoil yourself. You can't afford to waste it and when tempted to, remember everyone back at the office envies you.